What on Earth Slots
The online slots game What on Earth is yet another over the top slot from Microgaming. This slot features 3 scatter symbols in addition to a wild symbol and a bonus game. Win the 7,500 coin jackpot and you'll feel out of this world! Read the full, detailed review below.
How to Play the What on Earth Slot Machine
You may just think "What on Earth!" the first time you play this exciting Microgaming slot game. Like many other Microgaming casino games, this game is a five reel slot machine game that offers nine paylines. The fact that there are so many paylines is good news for players because they increase the odds of winning. Players who play more lines will have a better chance of walking away with money jingling in their pockets. Players can find What on Earth at any casino that offers Microgaming casino games.
Play Slots at One of the Best Microgaming Casinos
| Online Casinos | USA | Match | Bonus | Download |
| --- | --- | --- | --- | --- |
Microgaming casinos do not accept US players - check our list of US friendly casinos
Wild Symbol on What on Earth Slots
When you play What on Earth slots you will notice the presence of a What on Earth symbol. This is a wild symbol that substitutes for Console and Port Hole symbol in order to create a winning combination. This symbol cannot be substituted for other symbols, such as scatter symbols. When several What on Earth symbols appear on a payline that has been enabled, then winning What on Earth combinations are created.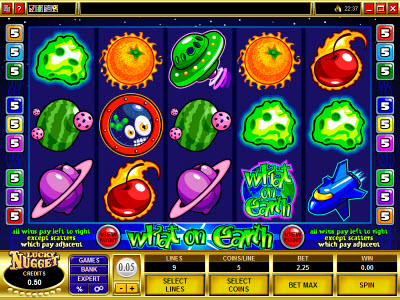 Three Scatter Symbols
The Shuttle, Rocket and Saucer symbols are the scatter symbols for the What on Earth game. There is no need for these symbols to show up in a line on a payline that has been enabled in order for the player to win. These symbols can be scattered on any reels that are adjacent as long as at least three of the same scatter symbols have shown up. When the scatter symbols show up on the allowed line, they do not create winning combinations.
Beam 'em Up Bonus Game
Any time three of the Shuttle symbols or three of the Saucer symbols appear on adjacent reels, the Beam 'em Up bonus game is then activated. The appearance of three or more Rocket symbols on adjacent reels will also activate the bonus game as well. This game is played on a second screen. The bonus game is played in a similar style to a Multi-Level Pick a Box type of game. This means that players earn the chance to move on to the next level by choosing the correct item. Advancing to the higher level provides players with the opportunity to earn larger prizes.
Players can also activate a destination bonus game by playing the Beam 'em Up Bonus game. The destination bonus game is similar to a Pick until Pop type of game. In this style of game, players must choose different items in order for the bonus amount to be revealed. The game will automatically stop when the Pop Symbol is selected.
Payout Criteria for What on Earth Slots
The highest combination on each payline that has been enabled will result in the payout of winnings. The only exception to this is on scatter wins. With the exception of scatter wins, regular winning combinations are paid out beginning on the left and going to the right. In the event of scatter wins, those are added to Beam 'em Up bonus game wins and payline wins. Bonus game payouts as well as regular game payouts are paid in coins.
This game offers a maximum win of 7,500 coins. The most a player can bet on this game is $90
Our Top Pages
Online Casinos
Play Online Slots
Popular Pages