Progressive Slot Machines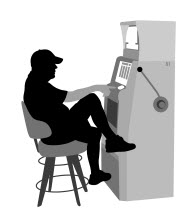 Progressive Slots offer you a chance to win a jackpot while only risking a few dollars (at most). Be sure to play these knowing that the odds of you hitting the big jackpot are about the same as winning the lottery. Always play the max coins so you have a chance to win the jackpot with every spin you take. By doing this you wont become another progressive slots horror story!
Progressive Slots Guide
As an avid slots fan you have more than likely come across progressive slot machines whether you play slots online or at the casino. Progressive slots are what every slot player's dreams are made of. Some progressive slots offer jackpots while others have lower, more modest payouts. The only drawbacks to playing progressive slots are the cost and the low odds of winning the huge jackpot. In this article I will talk about the three types of progressive slots and their positives and negatives.
Biggest Progressive Slots Online
| Rank | Casino | USA? | | Sign Up Bonus | Visit Site |
| --- | --- | --- | --- | --- | --- |
| #1 | | | Bovada Casino | up to $3000 | Play Now! |
| #2 | | | Slots.lv Casino | up to $5,000 | Play Now! |
| #3 | | | SlotoCash Casino | up to $7,777 | Play Now! |
| #4 | | | Lincoln Casino | up to $5,000 | Play Now! |
| #5 | | | Planet 7 Casino | up to $1,000 | Play Now! |
Pro's and Con's of Playing Progressive Slots Online
Depending on the type of slot machine you choose to play, there can be a few different positive and negative aspects of the action. All other factors aside, progressive slot machines have just a few pros and cons.
Pros - Progressive slot machines often offer huge, payouts to players.
Cons - Progressive slot machines can eat through your bankroll since you must play the max coins in order to be eligible for the jackpot. This factor is multiplied by the fact that the odds of winning this jackpot are much lower than non-progressive slot machines.
Progressive slots are best suited for players with a "all or nothing" attitude. By this I mean that the odds of winning the jackpot are similar to winning the lottery, and winning a huge jackpot will require a great amount of luck. Progressive slots can eat through a bankroll rather quickly, often leaving the player nothing to show for it. If you aren't afraid of this and have that "go hard or go home mentality" then progressive slots are for you!
Types of Progressive Slot Machines
There are three main types of progressive slots. In reference to online slots you will have to choose your slot by the size of the jackpot. There is no easy way to tell how many machines are linked to the jackpot with online slots.
Stand Alone
A stand alone progressive slot is a single slot machine that has a progressive jackpot. There are no other machines contributing to it's jackpot. Because of this the stand alone progressives always have the lowest jackpots. These jackpots are usually in the 1,000 to 10,000 range.
Locally Linked
These are progressive slots that have been linked together in a group to offer a larger jackpot. These machines offer a bigger payout than the stand alone machines, but still smaller than the global progressives. These jackpots are usually in the tens of thousands range.
Global or Wide Area Progressives
These are machines that are linked to other machines all over the place. The jackpots offered by these machines are in the hundred thousand to million dollar range and sometime higher than that! These machines are easy to spot both in a casino and online due to their huge jackpots. SlotMachineJackpot.org offers a pretty nice site for players who are interested in playing slot machine jackpots online.
Odds of Winning a Progressive Jackpot
The odds of hitting the jackpot are dependent on how many stops there are on each reel, how many reels there are on the machine, and of course the weight of each symbol. The weight of each symbol is determined by how many stops on the reel are dedicated to that symbol. For example if a reel with 64 stops has 1 stop for the jackpot symbol and 32 stops for the bar symbol then the odds of that reel landing on a bar symbol are much better than it landing on a jackpot symbol. Therefore there is not equal probability for different payouts on the machine... they are determined by weights.
An educated slots player knows that all modern slots are controlled by a microprocessor. This microprocessor uses a RNG (random number generator) to determine the combination on the reels for each spin. The way this works is that the microprocessor is generating thousands of random numbers per second, and at the instant you press the spin button the outcome of the spin is determined. The random numbers generated are compared to a lookup table and the combination is determined. A greatly detailed, yet slightly confusing article on this subject can be found here. One thing to remember about slots when thinking about a jackpot is that each spin is determined by a random number generator, and all that spinning on the screen is just to keep you amused.
Conclusion
Progressive slots do offer huge jackpots, but they often come at a higher price. The odds of winning a huge jackpot are very slim, but that is not to say that is impossible. We all know that players win these jackpots all the time, and any one of us could be that next lucky player. My advice to anyone new to slots that is intrigued by the progressive machine's massive jackpots is to play them with only a small portion of your bankroll, and leave the majority of your funds available to chase jackpots with better odds.
Other Languages
Progressive Slots Spielen - Deutsch
List of Slot Machine Articles on SlotsGeek.com
Our Top Pages
Online Casinos
Play Online Slots
Popular Pages