Vinyl Countdown Slot Machine
The Vinyl Countdown slot machine is a five reel microgaming slot with a classic rock n' roll theme. Players can bet up to 9 coins per spin, and the scatter and wild symbols increase their chances of winning. Read our detailed review below.
How to Play the Vinyl Countdown Video Slot Machine
If you love retro-style rock 'n roll, you'll love playing Vinyl Countdown slots online. Vinyl Countdown slot is an exciting, highly entertaining 5 reel video slot from Microgaming. Vinyl Countdown features fun tunes, entertaining action, and lots of bright colors and big, bold images. You'll love the funky icons, especially if you're a soda shop dessert fan.
Play Slots at One of the Best Microgaming Casinos
| Online Casinos | USA | Match | Bonus | Download |
| --- | --- | --- | --- | --- |
Microgaming casinos do not accept US players - check our list of US friendly casinos
The bouncy, bopping theme may draw you to this game, but you'll also love the choices and great opportunities to win big with the Vinyl Countdown slot machine. You can take your pick of up to 9 paylines. The more paylines you choose, the more chances you have to win on each spin of the reels. You can play fast and win big with all 9 paylines, or kick back and enjoy the music and spotting the fun icons with just one or a few paylines if you prefer.
You can also choose how much to bet per payline with Vinyl Countdown slots. Your minimum bet is $.25 per spin, and you can bet up to $18.00 if you're feeling the winning groove. Choose to bet up to 9 coins per spin with Vinyl Countdown.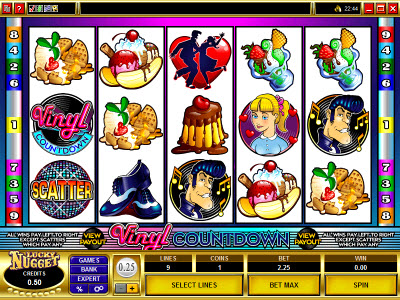 Wild Symbol
Thanks to the Wild Jukebox, Vinyl Countdown players have even more chances to win while they play. The Jukebox is Vinyl Countdown's Wild Symbol, and you'll love seeing it appear on screen. The Jukebox substitutes for any other symbol to create winning combinations, with one exception. The only symbol the Jukebox doesn't substitute for to create winning combinations is the Mirror Ball Scatter Symbol.
Scatter Symbol
The Mirror Ball is the Scatter Symbol you'll be looking for on screen during Vinyl Countdown play. As long as you have 3 or more Scatter Mirror Balls anywhere on screen, you'll enjoy extra winnings. You don't have to land a Mirror Ball on a payline to reap Scatter rewards, just as long as there are at least 3 in sight.
The more Scatter Mirror Balls that appear during play, the bigger your reward. When 3 turn up, you'll earn a 10 X multiplier. 4 Scatter Balls will earn you a 50 X multiplier, while 5 will result in a whopping 100 X multiplier.
Bonus Game on Vinyl Countdown Slots
The Vinyl Countdown slot machine doesn't feature a Bonus Game, but the Wild and Scatter Symbols ensure play is always action packed and loads of fun.
Pay Out Criteria
The maximum 1000 coin pay out occurs when 5 Vinyl Countdown symbols appear in an active payline. You'll win with as few as 2 matching Wingtip Shoes, Dance, Preppie, or Grease Ball symbols on a payline with Vinyl Countdown slots. You can find out more about all of the various winning combinations by checking out the Vinyl Countdown Pay Table.
Winning combinations are paid out for active paylines only, with the exception of scatter wins. The highest combination on each active payline results in your payout. Any scatter winnings you earn due to the appearance of 3 or more Mirror Balls on screen during Vinyl Countdown play will be added to your payline winnings.
Our Top Pages
Online Casinos
Play Online Slots
Popular Pages