Cash 'n' Curry Slots
The Cash 'N' Curry slots game is a three-reel, one-coin slot offering one payline with a bonus game. Multiple Nudge and Hold features are also available on this game that is set in a convenience store with Balti as your friendly store clerk. This game is available at most online casinos using Microgaming software.
Play Slots at One of the Best Microgaming Casinos
| Online Casinos | USA | Match | Bonus | Download |
| --- | --- | --- | --- | --- |
Microgaming casinos do not accept US players - check our list of US friendly casinos
Cash 'n' Curry Bonus Game
The Cash 'n' Curry bonus game is activated by spinning three Balti symbols in a row, in any direction. It consists of a 24-game-square bonus trail. Each game square offers a different feature. To move along the trail and progress through the different features, click the Spin button. Every time you land on a feature, your coolant level will decrease by one. If you do land on a feature, it is up to you to decide to collect that feature or continue your progression along the trail, hoping to land on a position of higher value.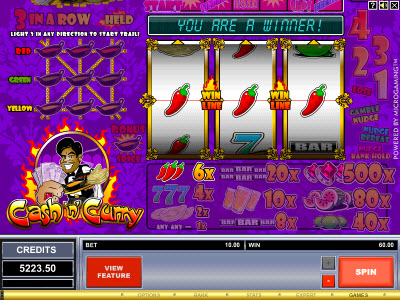 Should you land on the Big Gulp, Down in 1, Spillage, and Lose, your coolant level will decrease. Should you land on Top Up or Cheeky Half, your coolant level will increase. If you land on the Turbo Booster, you will automatically boost up to the next position on the trail, and your coolant level will remain the same, allowing you to spin the Balti reel again. Your coolant level will also remain the same and you will be allowed another spin if you land on Take a Breather or Start. Once your coolant runs out, the bonus game ends, awarding you that feature. This bonus can earn you up to 500 times the value of your original bet.
The Bhaji Bonus, the Spice-O-Meter, the Chicken Ticker, the Rogan Dosh, and the VindaLoot squares will all return you to Regular slot game, but all have different spin descriptions. There are other features offered throughout the trail, as well.
The Yes or No Repeater is a random feature that allows you to repeat the Curry Go-Round Super Jackpot.The Bonus Spice is a random feature that rewards you an extra Balti.
Nudge Features
This random feature allows players to bump any reel in order to display the next symbol. Up to four reel nudges can be earned. The Sneak Peak Arrows allow you preview the following two symbols on the reels, enabling you to possibly create winning combinations. A random Nudge Bank Hold lets you save up to 4 Nudges for your next spin, but only for the next spin. Nudges can also be repeated using the random Nudge Repeat feature, which repeats the amount of nudges used in your previous spin. The Gamble Nudge is also a random feature. It gives you additional nudges. Choose to Gamble again or collect your nudges.
Hold Feature
This feature is also random and enables you to hold up to three reels in the same place for the following spin.
Payouts
Payouts are maid in credits, which are calculated by multiplying the number of credits by the total coins bet, depending on the coin size you choose.
Conclusion
The fact that the bright and flashy play area is not accompanied by any music, only the bells of the game, makes this a low-stress game. The amount of bonus possibilities makes this simple three-reel, one payline, one-coin slot more than what meets the eye.
Our Top Pages
Online Casinos
Play Online Slots
Popular Pages