King Cash A Lot 5 Reel Slot Review
Looking for a progressive jackpot? This one may not be the most lucrative progressive slot, but even if you don't hit the progessive jackpot, the 2nd highest payout is 15,000 coins. The coin bet max is 45 and there is a fixed coin value of 0.05, which means you can only bet coins at this value, and you can only bet 2.25 credits per spin. There is a wild/multiplier symbol, a scatter symbols, 8 regular symbols, and a bonus game.
Play Slots at One of the Best Microgaming Casinos
| Online Casinos | USA | Match | Bonus | Download |
| --- | --- | --- | --- | --- |
Microgaming casinos do not accept US players - check our list of US friendly casinos
Progressive Jackpot
The progressive jackpot on this machine can get upwards to 1 million credits, but keep in mind that you must enable all 9 paylines (bet max or 45 coins) to win the progressive jackpot.
Wild Symbol
The King symbol will fill in for any symbol in winning combinations, except the scatter symbol (the Jester) and the bonus game trigger symbol (the Dragon). This symbol multiplies any win it creates by 2x; however, multiple King symbols do not act as wild or multiplier symbols. In fact, 2 kings on the 8th or 9th payline only payout 15 credits, so they are actually worth more when they only fall once on an enabled payline. The progressive jackpot is won when 5 King symbols appear on an enabled payline, but again, all 9 paylines must be activated to win the jackpot. Five King symbols on the 8th payline awards 15,000 credits. The Queen is the next hot symbol, awarding 1000 credits when 5 Queens appear on the game area.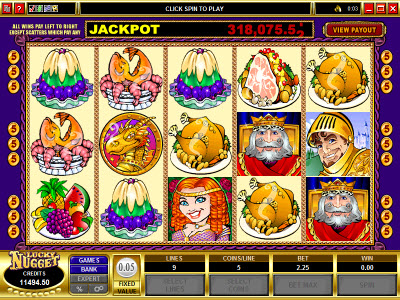 Scatter Symbol
The Jester symbol is the scatter. Two Jester symbols are required to create scatter combos, which pay out no matter where the two symbols land on the game area, even if they are not on an enabled payline.
Bonus Game
The bonus event in this slot is the Treasure bonus game. In order to activate this bonus, you must spin 3 Dragon symbols, which can be scattered across the second, third, and fourth reels only. Once you are in bonus-mode, you will get to choose from 8 of the king's Treasure Chests. You may only choose 3 times, and each time you choose another chest, your original bonus win is forfeited and replaced with the new bonus amount. The goal is to select the Treasure Chest with the highest bonus amount. When you select a Treasure Chest, a random value (between 2-24) has already been multiplied by the number of coins laid down per payline, as well as the number of paylines that were enabled on the initial spin that triggered the bonus. To pick another Treasure Chest, click the "Pick Again" button.
Payout Criteria
In order for regular combinations to form, winning combinations must have at least one symbol settled on the 1st reel, symbols must be adjacent, and sit from left to right. If more than one winning combo is existing on an enabled payline, only the highest one will count towards a payout. Make note that only Real users (real-money players) are eligible for Progressive Jackpots wins. You should also be aware that the progressive jackpot amount, which is displayed at the top of the game area and is continuously growing, is represented in credit value, not coins or dollars, but all payouts are converted to and awarded in coin values.
Conclusion
With the limited coin size options (there is only one, actually and it is extremely low: 0.05) and the 45-coin maximum bet, it seems that it would be hard to get anywhere on this game. But, if you can maintain your credit roll long enough, you could very well hit the progressive jackpot and put this slot to good use. If you are looking to play a slot for the sole reason of hitting a progressive jackpot, this one might be for you, as you just can't run out of credits betting 2.25 coins per spin. If you are running low on credits though, this game might be a good one to stop at to build your credits up, or just run them out, as well.
Our Top Pages
Online Casinos
Play Online Slots
Popular Pages