Chain Mail Slots
If you weren't hungry before you sat down to play this 100-coin, 5-reel slot machine, you will be. Chain Mail is set in the medieval period, but still somehow gets away with offering Kings Fried Chicken and pizza. With 20 paylines, a wild/multiplier symbol, a scatter symbol, a bonus game, and yummy treats, your chances of winning (and working up an appetite) are greatly increased. You can win up to 6,000 coins in regular payouts.
Play Slots at One of the Best Microgaming Casinos
| Online Casinos | USA | Match | Bonus | Download |
| --- | --- | --- | --- | --- |
Microgaming casinos do not accept US players - check our list of US friendly casinos
Wild Symbol
The Chain Mail symbol is a wild and multiplier symbol. It can stand in for any symbol in any winning combination, except the Mail Bag symbol and the Bonus Gate symbol. It also doubles the payout for any completed winning combination it is part of, but only when it functions as a wild symbol. When multiple Chain Mail symbols appear, they are no longer considered wild and make their own combination payouts. Furthermore, they are no longer considered multipliers.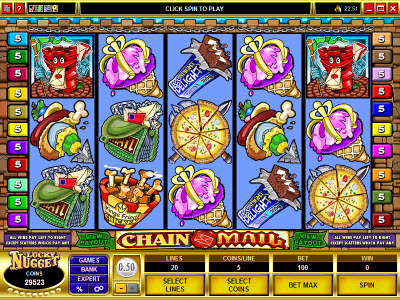 Scatter Symbol
Chain Mail's Scatter symbol is the Mail Bag, and it can appear anywhere within the five-reel game area to payout, as long as three Mail Bag symbols accompany each other within the same spin.
Regular Symbols
There are 10 regular symbols. For regular symbol winning combos, symbols have to be adjacent to one another and read left to right. Also, winning combos must start in the first reel.
Castle Bonus Games
The Castle Bonus Game is triggered when three Bonus Gate symbols appear on the 1st, 3rd, and 5th reels together. To determine your bonus value in this game, you will choose of 7 doors in each of the 5 rows. There are two things to remember about this bonus game. Should you open the door and reveal Princess Roxy (there is one in each of the 5 rows), you will win all bonus amounts in that row. Along with Princess Roxy symbols, there are also Uncle Mordread symbols (only appearing once in row 3, twice in row 4, and three times in row 5). The goal is to avoid him, as opening one of his doors will end your bonus and send you back to the regular game.
Payouts
Payouts are made in coins, which are converted back to credits upon exiting this game. Payouts to the highest combination win always take precedence over lower winning combinations, except for Scatter wins, which are always added on to regular winning paylines. Regular wins are paid out based on left-to-right winning combinations and are calculated by multiplying the amount of coins bet on each payline (you can bet up to 5 per payline) by the number of coins won. Scatter symbol payouts are calculated by multiplying the amount of coins bet on each payline (you can bet up to 5 per payline) by combination payouts for Mail Bag Symbols.
Conclusion
This slot machine has the potential for a big payout on the bonus game, if you can avoid Uncle Mordread. Other than this feature, it is a basic 5-reel slot machine with the usual bells and whistles.
Our Top Pages
Online Casinos
Play Online Slots
Popular Pages