Cashville Slots
Billionaires, Bette Boodle, Bill Bullion, Dame Von Deeds, and Sir Sterling, invite you to play their 200-coin, 5-reel slot that offers 20 possible paylines. You may bet 10 coins on every payline. Within this game, you will find a wild symbol, a scatter symbol, and two bonus games.
Wild Symbol
The Wild symbol replaces money symbols within winning combinations. It does not substitute for the four billionaire symbols or for a scatter symbol. In addition, it cannot substitute the Bonus Coin symbol, which activates the Cashville bonus game. More than one Wild symbol offers an enabled payline winning combo, so it is no longer considered wild when more than one appears.
Play Slots at One of the Best Microgaming Casinos
| Online Casinos | USA | Match | Bonus | Download |
| --- | --- | --- | --- | --- |
Microgaming casinos do not accept US players - check our list of US friendly casinos
Scatter Symbol
The Scatter symbol can appear anywhere on any enabled payline to payout, but there must be at least three of them showing. Scatter combinations can show anywhere within the five reels.
Regular Symbols
There are 8 regular symbols in Cashville.
Cashville Bonus Game
This bonus game is activated when at least 3 Bonus Coin symbols appear within the five reels. Multiple Bonus Coin combinations do not pay out. You have the possibility of winning up to 45,000 coins in this bonus game. At the end of each bonus game, you will be given the opportunity to play the Gamble bonus game.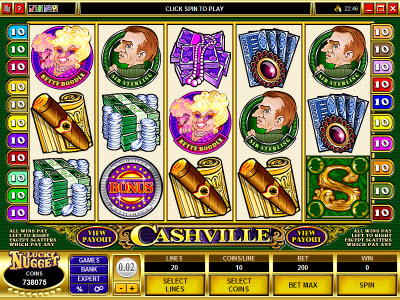 To play the Cashville bonus game, you will select one of the 4 billionaires and play the bonus game that corresponds to that character. Note: The number of Bonus Coins that activated your bonus corresponds with the number of bonus values you will be able to choose in each of the 4 versions of the Cashville bonus game (3 Bonus Coins will yield 1 choice; 4 Bonus Coins will yield 2 choices; 5 Bonus Coins will yield 3 choices).

* Bette Boodle Bonus Game: Five paintings of dogs are shown, each of which covers a bonus value.
* Bill Bullion: Here you will find 6 oil rigs, each with a hidden bonus behind them.
* Dame Von Deeds: She offers you 8 deeds that each holds a hidden bonus value.
* Sir Sterling: 9 vaults cover 9 bonus amounts.
Gamble Bonus Game
Activate this bonus game by simply winning any enabled payline. Guess the color of the card correctly, and your winnings will multiply by 2. You can continue to gamble in this fashion until the gamble limit is achieved, which is a set coin amount. You cannot gamble more than 5 times per spin.
Payouts
This coin-based slot machine converts your credits to coins when you play, and back to credits upon exiting. While you are playing the game, you will be paid in coins. You can choose which coin size you prefer to use. Only the highest winning combination will payout, except scatter wins, which are added on to regular wins. Regular payouts are made based on winning combinations that start left and go right.
Conclusion
With the multiple bonus game choices, it might take you a while to get bored with this slot. The comical caricatures might also keep you entertained, and the 45,000 coin potential payout is most enticing.
Our Top Pages
Online Casinos
Play Online Slots
Popular Pages