Age of Discovery Slots
Ahoy Maties! Let's travel back in time with the Age of Discovery video slot in search of huge payouts! This five reel, 25 line monster is sure to keep you entertained for hours whether you play .01 coins or .50 coins. The chances of winning are extremely high since there are 25 different paylines to play.
Play Slots at One of the Best Microgaming Casinos
| Online Casinos | USA | Match | Bonus | Download |
| --- | --- | --- | --- | --- |
Microgaming casinos do not accept US players - check our list of US friendly casinos
Special Symbols on Age of Discovery Slots
This microgaming video slot utilizes both wild and scatter symbols. The wild symbol is a gold coin which can substitute for any other symbol except the sea monster (the scatter symbol) and the compass (the bonus symbol). In addition to the gold coin being able to substitute for any other symbol, if you manage to hit 5 coins in a payline you can win up to 60,000 coins.
Having three or more scatter symbols on the screen earns you a scatter win. See the payout screenshot to see how the scatter wins work out. 3 scatter symbols will multiply your total bet staked by 5 meaning a bet of 250 would pay out 1250 upon having 3 scatter symbols. Scatter wins are added to payline wins.
Bonus Game
3 or more compass symbols displaying anywhere on the slot reels will activate the bonus game. The bonus game consists of a treasure map with 30 diferent treasure sites. You choose treasure sites to reveal hidden bonus amounts and the bonus amounts are added to the total win box. You choose until you find the skull and crossbones. Once the skull and crossbones is found, the game is over and the remaining treasures are revealed.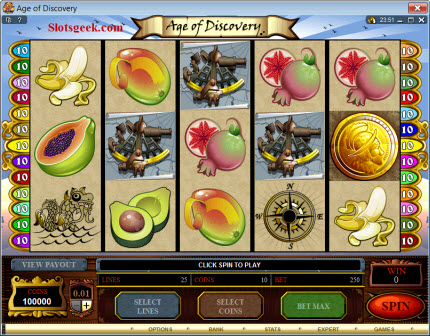 Payout Criteria
In order to get a payout from Age of Discovery your spin must meet the following criteria.

* The first slot reel must contain one of the symbols from the combination. A combination in slot reel's 2, 3, and 4 does not count because the symbol is not in the first slot reel.

* The symbols must be next to each other on the enabled payline.
Multiple Paylines
Age of discovery slot lets you play a whopping 25 pay lines. Some of the lines are so complicated it's hard to even call them lines, but I'll take what I can get. If you play all 25 lines, it is hard to not win some kind of payout on every spin. The number of credits you can win depends on how many lines you play and how many coins you play on each line. You can play up to 10 coins on each line (25 lines) for a max bet up to 250 credits. Don't miss out on a huge payout because you decided not to play enough lines.
Conclusion
This video slot is relaxing, exciting, and fun all at once. The excitement comes from the 25 different pay lines, possible bonus game, and scatter symbols. The sound effects are a soothing ocean of waves and the creaking ropes of a sailboat. If your looking for a relaxing slot experience we recommend giving Age of Discovery a try. InterTops has many great features such as autoplay and built in stat tracking. InterTops is audited by independent auditors and has been online since 1996, so there is no need to worry about foulplay
Our Top Pages
Online Casinos
Play Online Slots
Popular Pages