Pub Fruity Slots
Pub Fruity slots is a old fashioned UK slot similar to what used to appear at the pubs in England. This slot is packed with some great bonus features that can end up winning you a bunch of money. Read this full review to figure out how this game works and what the ideal payout scenario is.
How to Play the Pub Fruity Slots Machine
Pub Fruity slot machine is based on the classic fruit machines that were played played in British Pubs. US players should like this slot as it is a little different than the standard three reel slot they are used to seeing.
Play Slots at One of the Best Microgaming Casinos
| Online Casinos | USA | Match | Bonus | Download |
| --- | --- | --- | --- | --- |
Microgaming casinos do not accept US players - check our list of US friendly casinos
Pub Fruity slots consists of only one pay line and you can only play one coin per spin. There is a "Drinks Trail" bonus game and a "Dart Contest" bonus game. Coin size can be .10, .20, .25, .50, 1.00, 2.00, 5.00, or 10.00. The jackpot is 250x your bet that hits the jackpot. For example a 10 credit spin that hits the jackpot would be 2,500 credits.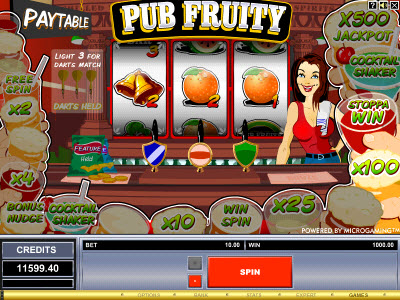 Drinks Trail Bonus Nudge Game
On the sides and bottom of the slot's screen you will see a trail of drinks. Every time a symbol appears with a 1, 2, or 3 on it you advance on the drinks trail. If more than one symbol appears with a number on it then the numbers are combined and you move the total of these numbers. Your prize depends on where you land on the drinks trail. The payout schedule is as follows.

* Blank Drink - You win nothing.
* Free Spin - You win a free spin.
* X2 - Original bet is multiplied by 2.
* X4 - Original bet is multiplied by 4.
* Bonus Nudge - You are allowed to nudge on reel to display the next symbol. Click the beer taps to nudge a reel.
* Cocktail Shaker - You move around the drinks trail and stopped in a random position
* X10 - Original bet is multiplied by 10.
* Win Spin - You get a free spin with a guaranteed win from the regular payout schedule.
* X25 - Original betis multiplied by 25.
* X100 - Original betis multiplied by 100.
* Stoppa Win - You are moved up and down the trail, and you click the stop button to determine which bonus you land on.
* X500 - Original betis multiplied by 500.
Dart Contest Bonus Game
A symbol displayed with a dart label is automatically converted to a Dart symbol. Each time a dart symbol is displayed you accumulate one bonus dart. Once you accumulate three bonus darts the bonus game begins. You choose a character that you think will win the dart game. Upon choosing a character the game begins.The characters throw three darts each and a winner is determined. You are payed depending on which place your character finishes. Below is the payout schedule for the bonus darts game.

* 1st Place - 1,000x multiplier on credits bet.
* 2nd Place - 100x multiplier on credits bet.
* 3rd Place - 50x multiplier on credits bet.
Conclusion
It is obvious that the bonus games add a lot of fun to this slot, and they are a nice addition to a would-be simple 3 reel slot. This online version of a classic slot machine is sure to keep you happy for a long time as you spin, awaiting your chance at the dart and drinks trail bonus game. Just don't get carried away with those 10 credit spins ;-)
Our Top Pages
Online Casinos
Play Online Slots
Popular Pages