Treasure Ireland Slot Machine
The Treasure Ireland slot machine looks like a simple three reel slot, but play this slot and you will quickly realize there is much more to it. This slot has an amazing feature game where players spin to determine which game they will play. There are many payouts to be had in the feature games.
Treasure Ireland Slots Biggest Feature - Pub Slot
Arrr! Pirates from the Green Isle be steerin' towards great treasure. Treasure Ireland slot is a three reel video slot with features galore. Players need only follow the "x" to find their way to great winnings and fun. This game will please the more advanced players, but maybe to busy for newer players.
Play Slots at One of the Best Microgaming Casinos
| Online Casinos | USA | Match | Bonus | Download |
| --- | --- | --- | --- | --- |
Microgaming casinos do not accept US players - check our list of US friendly casinos
Game Play
The Treasure Ireland slot machine has three reels and one line of play. Every spin is a five-credit play; there are no different denominations. There is neither wild symbol nor any scatter symbol. A scatter win does exist, but as a random addition to other symbols rather than one specific symbol. The actual reel spinning actually constitutes very little of the game play. The most significant portion of game play is the Treasure Ireland feature game play. It is actually an entire separate screen of features all gathered together. To activate this feature, the player must spin three symbols with an "x" next to them. Unlike a normal win in this game, the "x" symbol does not have to appear on the centerline.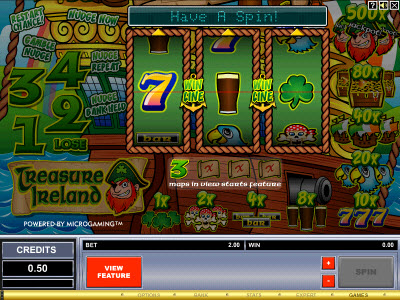 Treasure Ireland Feature
The bulk of the game play comes from the feature. Once activated, this feature give the player a multitude of new opportunities, from direct winnings to new types of mini-features to multipliers. The feature is a game board where players spin to select a new type of game play. Some mini-features continue play automatically, and others give the player a chance to continue. Players may also pick-up three potatoes to win an extra life, or free chance at the game board again, should they loose. Cash Shots allow the player to win credits directly and carry on playing the feature. The Feature Shots allow the player to unlock all kinds of new game features, from mini-reel slots to new combinations of the game. All of them are basically intuitive and play like the normal game, or are explained when the player spins them. There are so many of these that the player can spend literally hours and not see the same feature twice, yet not for a lack of winning.
Conclusion
As eclectic as putting pirates and the Irish together may be, this game beats even that combination in the wide selection of features and game play opportunities. Each spin brings up new possibilities and different ways to win. For only having one line of play and three reels, the online slot Treasure Ireland is surprisingly not boring. Yarr! Giv'er a try and get some pieces of eight! Happy spinning!
Our Top Pages
Online Casinos
Play Online Slots
Popular Pages