Triple Magic Slots
Triple Magic slots is simple yet very enjoyable due to it's lack of overwhelming features. If you just wanna "spin and win" this is the slot for you. Read the entire review below to see if this slot is one you would enjoy.
How to Play the Triple Magic: Reels Gone Wild
Triple Magic slot machine has three reels and one play line. The credit value has denominations from .25 to 5 credits per coin. This slot gets back to the basics. With just one wild symbol and an easy to read payout schedule next to the reels, this game is great for players wanting to invest little time in a quick game, or for players interested in long-term play.
Play Slots at One of the Best Microgaming Casinos
| Online Casinos | USA | Match | Bonus | Download |
| --- | --- | --- | --- | --- |
Microgaming casinos do not accept US players - check our list of US friendly casinos
Game Play on Triple Magic Slots
Players may bet either one or two coins. Payouts match the bet coin for coin, so if the player bets one (1) coin, the lowest payout is two (2), but if the player bets two (2) coins, the payout is four (4). Winning combinations begin on the first reel as normal, and only on the centerline. There are no scatter symbols, and only one wild symbol.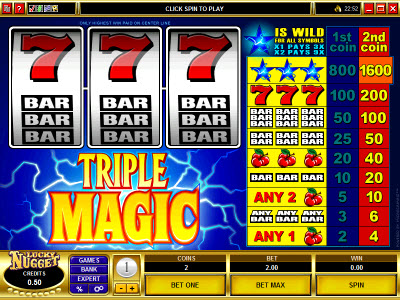 Triple Magic Slots Wild Symbol
The Blue Star symbol is wild for any symbol. Seeing it one time pays out triple (3x) on a winning combination for the player, seeing it twice pays out nine times (9x) for the player. Three Blue Stars pays out as per the payout schedule.
Payout Schedule
Any Cherry on the centerline pays out double the bet at either two (2) or four (4), depending on whether one or two coins are bet. Any three bars on the play line pays out either three (3) or six (6). Two cherries on any reel pays out five (5) or ten (10). Three single bars pay out either ten (10) or twenty (20). Three cherries equal a payout of either twenty (20) or forty (40). Double bars can win either twenty-five (25) or fifty (50). Triple bars earn either fifty (50) or one hundred (100) big ones. The seven symbols pay out at either one hundred (100) or two hundred (200). The big jackpot, three Blue Stars, pay out at either eight hundred (800) or sixteen hundred (1600).
Conclusion
Triple magic is a simple game with endless possibilities. The simple payout schedule and trimmed back features make it accessible, but ultimately enjoyable. Happy Spinning!
Our Top Pages
Online Casinos
Play Online Slots
Popular Pages