Wasabi San Slots
The Wasabi San online slots is an original slot to say the least. I literally laughed out loud when I first layed eyes on it. The symbols are pieces of sushi and wasabi. See if you can't get a nice payout from this awesome slot. Read the full review of wasabi san below.
How to Play the Wasabi San Video Slot Machine
If you like video slot games with fun themes, lots of options, and bonus features and games that keep you interested as well as entertained during play, you'll love playing the Wasabi San slot machine. This is an exciting 5 reel slot game from Microgaming with a very interesting theme – the Sushi Chef!
Play Slots at One of the Best Microgaming Casinos
| Online Casinos | USA | Match | Bonus | Download |
| --- | --- | --- | --- | --- |
Microgaming casinos do not accept US players - check our list of US friendly casinos
The Wasabi San slots is designed to make players feel as if they are sitting in a Japanese Sushi Restaurant, and it is very successful. Japanese music plays in the background while you enjoy this intriguing game, and you'll quickly come to recognize the symbols on screen.
Both Sushi restaurant characters and different types of Sushi are used as symbols in Wasabi San, and there's also a bonsai tree. The sound effects are exciting and the action is thrilling when certain winning combinations appear on screen.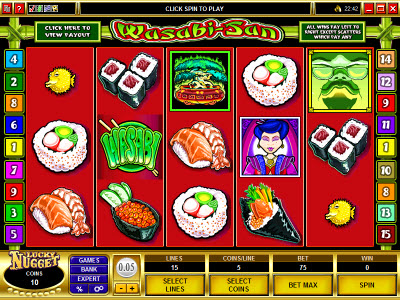 Wild Symbol
You'll be looking out for the Sushi Chef Wild Symbol as you play Wasabi San slots. The Sushi Chef will substitute for any other symbol to create winning combinations, with two exceptions. The Sushi Chef Wild Symbol won't substitute for the Wasabi Scatter Symbol, or the Puffer Fish symbol that triggers the Bonus Game.
Scatter Symbol
Wasabi San's Scatter Symbol is the Wasabi sign, and you can win a multiplier when as few as 2 appear anywhere on the screen. Wasabi symbols don't have to land in active paylines to result in winnings.
When 3 or more Wasabi symbols turn up, you'll earn 10 Free Spins. Any winnings you earn during the 10 Free Spins will be tripled, and you can also earn more Free Spins within your Free Spins. If three Wasabi Symbols turn up, you'll earn 10 more Free Spins and once again, your earnings during those 10 Free Spins will be tripled.
The Fish Market Bonus Game
One of the funnest features of Wasabi San is the exciting Fish Market bonus game. This Bonus Game is triggered whenever 3 or more Puffer Fish symbols appear in a line on one of your active paylines.
Your goal in the Fish Market Bonus Game is to choose the fish that will provide you with the biggest payout. The number of fish you can choose at the Fish Market equals the number of Puffer Fish that appeared to trigger the Bonus Game. If 3 Puffer Fish appeared and activated the Bonus, you will be able to choose 3 fish at the Market. If 4 Puffers triggered the Bonus Game, you can choose 4. The maximum number of fish you can choose is 5.
Payout Criteria
You can choose to bet between $ .01 and $1.00 per value bet, with a maximum of 17 coins. You can also choose how many lines you will bet on, up to 15. Your maximum win is a 7500 bonus.
Winnings are paid out on the highest paying combination on your active payline, and they are determined left to right. The exception is your Scatter Symbol winnings. Scatter symbols don't need to appear on your payline to trigger earnings.
Our Top Pages
Online Casinos
Play Online Slots
Popular Pages