Jungle 7's Slots
Don't be fooled by the simplicity of this 3-reel/3-coin/3-payline game. There's quite a bit of potential for extreme payouts here. There is a wild/multiplier symbol, 8 other regular symbols, and a 15,000-coin jackpot.
Wild/Multiplier Symbols
The wild/multiplier symbol in this game would be the Coin symbol. While it substitutes for any other symbol, it also multiplies the payouts in which it completes. If you spin the reels and get one Coin symbol (must be on an enabled payline), your winnings for that spin will be multiplied by 5. If you spin the reels and get 2 Coin symbols, your winnings will be multiplied by 25. Multipliers are only applied to those winning combinations which the wild symbols complete. Three Coin symbols, on the third payline, yield the 15,000-coin jackpot. Three Coin symbols on the second payline yield 5000 coins, and on the first, 2000 coins.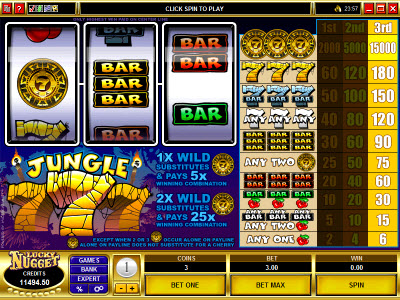 Payouts
You will receive payouts on the highest winning combination (falling adjacent, from the first reel and following left to right) per enabled payline, per spin.
Conclusion
Don't underestimate this game. While there is no bonus, there is action to be found with the wild/multiplier symbol and the massive jackpot. If you have to sit at a three-reel slot, sit at this one.
Our Top Pages
Online Casinos
Play Online Slots
Popular Pages