The Osbournes Slot Machine
The Osbournes not only have their own TV show, but they also have their own online slot machine called The Osbournes. What is next? Read the review of this great slot below and be sure to try it out at one of our preferred casinos.
How to Play The Osbournes Slots
Whether you're a fan of reality show rocker Ozzy Osbourne and his zany family or not, you'll want to give Micorgaming's new video slot machine The Osbournes a try. This is a 5 reel video slot featuring 20 paylines and bonuses galore. There's plenty of opportunity to win free spins and extra coins, and lots of video action. Three enticing and rewarding bonuses add to the entertainment of this exciting new slot game.
Play Slots at One of the Best Microgaming Casinos
| Online Casinos | USA | Match | Bonus | Download |
| --- | --- | --- | --- | --- |
Microgaming casinos do not accept US players - check our list of US friendly casinos
All of the members of the Osbourne family are featured in the Osbournes slot machine, including their dog Mini. Whether Ozzy, Sharon, Kelly or Jack is your favorite Osbourne, you'll find plenty of ways to have fun with the whole family playing their slots game.
Players can choose to wager from $.01 to $.50 per bet, up to ten coins per line, so the maximum bet is 100 coins. With bonuses galore, you can quickly rack up free spins and cash prizes playing The Osbournes, even with a conservative coin value bet across multiple lines.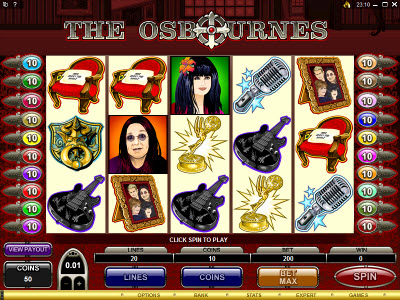 The Osbournes slot machine features plenty of action for players who prefer a lot of bonuses and special features in video slot games. The artwork featured on The Osbournes is fantastic, and the theme is fun and entertaining. The Osbournes online slot theme is entertaining whether you've met the family on their reality show or not.
Wild symbol
The Osbournes Sign is the Wild Symbol that can substitute for other symbols to create winning combinations. The Osbournes Sign will not substitute for Scatter symbols, however.
Scatter Symbol
The Door Knocker is the Osbournes Scatter Symbol. The scatter symbols can appear anywhere on the reels to result in winnings. When 3 or more Scatter Door Knockers appear on screen, the Knock Knock Bonus Game will begin.
Knock Knock Bonus Game
The Osbournes slot machine Knock Knock Bonus Game can net players up to an additional 50,000 coins. Take your pick of gargoyle door knockers that appear on the screen, and enjoy your bonus.
You can also earn bonuses in the random Grab a Gift Bonus. During the Osbournes slots special feature, you select from among four on-screen wrapped gifts presented by Osbourne family members. Each gift carries a different multiplier reward. Players use the "Start" button to highlight the gifts and hopefully, land on the gift (and multiplier) of their choice.
Mini the dog's Trail Bonus is an innovative trail bonus featured within free spins in The Osbournes. Mini both triggers and indicates bonuses: with 3, 4 or 5 Minis across the reels, you'll enjoy 10 free spins and trigger the Trail Bonus. As Mini dashes across the screen, free spins are racked up. Mini runs across 4 different levels – one for each member of the Osbourne family. Ozzy triggers the maximum free spin reward.
Payout Criteria
The Osbournes base game presents players with an opportunity to win as many as 75,000 coins, while free spins raise potential winnings to 150,000 coins. Payouts are awarded based on the highest winning combination on each active payline.
Our Top Pages
Online Casinos
Play Online Slots
Popular Pages