Time Machine Slots
Get ready to take a trip unlike any other with "Time Machine" slots by Cryptologic.  This futuristic game offers players the chance to win a ten thousand coin jackpot.  With coin values from one cent up to ten dollars, there are many chances for players to reach far out paydays.
The thrilling graphics of "Time Machine" slots are hallmarked by the combination of futuristic and antique clocks that line the edges of the screen.  Symbols used in this game include spectacles, diagrams, compasses, keys, a Victorian couple, robots, pharaohs, knights, dinosaurs, time machines, time travelers, and a scattered wormhole.
The ten thousand coin jackpot offers a great payday for gamers, especially when they are playing the maximum bet amount.
Best Online Casinos to Play Cryptolgic Slots
| Online Casino | USA | Match | Bonus | Download |
| --- | --- | --- | --- | --- |
No USA players - Click here for a list of casinos for US players.
Features on Time Machine Slots
Slot lovers will enjoy the autoplay feature embedded in this game.  With this feature turned on, players can set the bet amount and number of lines as well as the number of spins to be played and sit back to watch the reels spin.  The feature can be turned on and off at any point during the game, and the settings can always be adjusted to increase or decrease bet amounts, lines, or spins.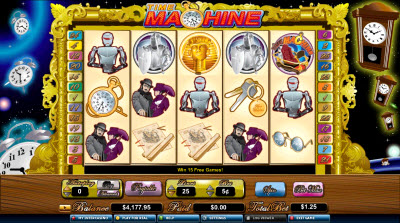 Winning Paylines on the Time Machine Slot Machine
There are twenty-five out of this world paylines to be found in "Time Machine" slots.  Three lines run horizontally across the play screen, while the remainder of the lines are made of different horizontal and diagonal lines designed to help maximize the number of ways players can obtain a winning combination
Payouts on Time Machine Slots
There are a number of excellent payouts to be found within "Time Machine" slots.  The ten thousand coin jackpot is paid when a player lands five Time Traveler symbols on a single active payline.  Four of these symbols pays the winner two thousand coins, three pays two hundred fifty, and two pays ten.  This symbol is also a wild symbol, and it can substitute for any symbol in the game except the scattered wormhole.  Five time machines pay the winner five thousand coins, four pay seven hundred fifty, three pay one hundred, and two pay five. 
Five dinosaurs is worth a hefty one thousand coin payout, four pay three hundred, three pay fifty, and two pay five coins.  Five hundred coins are awarded when five pharaohs or five knights are present on a single active payline, while four of a kind is worth one hundred coins and three pay twenty coins.  Players getting five robots or five Victorian couples on a single payline will find themselves with a two hundred fifty coin payout, while players getting four will find fifty coins, and players finding three will be awarded fifteen coins.  Five keys or five compasses pay one hundred fifty coins, four pay twenty-five, and three pay ten coins. 
Five diagrams or five pairs of spectacles pay the winner one hundred coins, four pay twenty, and three pay five coins.  The last symbol is the scattered wormhole, which awards one hundred times the bet when five symbols appear anywhere on the reels.  Four wormholes multiply the bet by twenty, three multiply it by five, and two wormholes double the bet.  Any player getting three or more scattered wormholes on a single payline will also be awarded the free game bonus, offering a chance for some truly out of sight payouts
Our Top Pages
Online Casinos
Play Online Slots
Best Crypto Slots
Popular Pages