Reel Renovations Slots
Sit back and watch the reels spin as you try to build a fortune with "Reel Renovations" slots.  This fun game from Cryptologic places you in the role of a renovator as you spin the reels in hopes of winning the 20,000 coin jackpot.  With coin values ranging from one cent to five dollars, there is a truly large range of potential winnings on this machine. The graphic of the table are designed to suit the theme and the table features two pillars surrounding the reels and a drill in the bottom left corner.  Symbols on the reels include flowers, a faucet, track lighting, a couch, a fish tank, a saw, a television, a hot tub, and a fireplace as well as a hammer and a paintbrush.
The twenty thousand coin jackpot offers significant winnings to players who clean up in this exciting game, particularly those betting the maximum coin value.
Best Online Casinos to Play Cryptolgic Slots
| Online Casino | USA | Match | Bonus | Download |
| --- | --- | --- | --- | --- |
No USA players - Click here for a list of casinos for US players.
Bonus Features on Reel Renovations Slots
The autoplay feature is included in "Reel Renovations" slots.  This feature allows players to set the reels to spin automatically.  Players can set the number of lines and the bet per line and determine how many spins will be performed.  This keeps the reels moving at a set pace and allows players to watch the game unfold.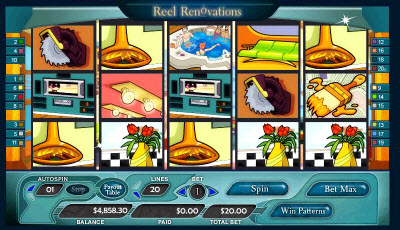 Winning Paylines on the Reel Renovations Slot Machine
There are twenty total paylines in "Reel Renovations" slots, creating a myriad of possible ways to reach a winning combination.  Three of the twenty slots move horizontally across the reels in the top, middle, and bottom positions, while the remaining seventeen are made up of diagonal and horizontal lines designed to maximize the number of ways to win.
Payouts on Reel Renovations Slots
There are many payouts to be found in this game, but perhaps none more exciting than the twenty thousand coin jackpot that is won when a player gets five paintbrushes on a single active payline.  Four paintbrushes pays a generous twenty five hundred coins, three pays two hundred fifty, and two pays twenty five coins.  This symbol is also a wild symbol and can substitute for all except the scatter hammer.  A secondary jackpot of seventy five hundred coins is awarded to any player getting five flowers symbols on an active payline.  Four symbols pays five hundred coins, and three is worth a ten coin payout. 
Five faucets pays a two thousand coin dividend, while four pays out two hundred coins and three pays twenty.  Five fish tanks or track lighting symbols pays the player five hundred coins, while four is worth fifty and three pays ten.  Five couches or five saws on a payline is worth two hundred coins, four is worth twenty, and three is worth five.  Five hot tubs shower the winner with seventy five coins, four offers fifteen, and three pays four coins. 
Players getting five televisions or five fireplaces on a single active payline are paid fifty coins, while ten coins are offered for four of a kind and three coins for three of a kind.  The scatter hammer is the last symbol, and pays back the bet for any player getting two of the symbols anywhere on the reels.  Three or more hammers triggers the "Reel Renovations" bonus feature, which offers players a chance to truly renovate their total winnings.
Our Top Pages
Online Casinos
Play Online Slots
Best Crypto Slots
Popular Pages