Fish 'N' Chips Slots
Take a swim in the cool ocean waters and watch the reels spin with "Fish 'N' Chips" slots by Cryptologic.  Put away your hunger, as this slots game is not about food, but rather fish and betting chips and the eight hundred and one thousand coin jackpots that await the luckiest spinners.  This fantastic game offers players a wide array of payouts and denominations ranging from one cent to five dollars.
Best Online Casinos to Play Cryptolgic Slots
| Online Casino | USA | Match | Bonus | Download |
| --- | --- | --- | --- | --- |
No USA players - Click here for a list of casinos for US players.
The exciting graphics of "Fish 'N' Chips" slots include the view from the window of a submarine, with a variety of fish swimming by.  The denomination is displayed inside a life raft, and the betting buttons are designed to look like poker chips.  Symbols used in this game fit well with the theme and include seahorses, fish, anchors, starfish, octopi, snails, and clams.  There are a total of nine standard payouts as well as the thousand coin jackpot available to players betting the three coin maximum.
With one thousand coins on offer for players betting the maximum, "Fish 'N' Chips" can easily be replaced by caviar for lucky spinners.
Autoplay Features on Triple Olive Slots
"Fish 'N' Chips" slots offers players an exciting autoplay feature.  When this feature is active, players will be able to watch the reels spin automatically, with all prizes added directly to the player's total.  The feature can easily be customized, and players can choose the number of lines as well as the denomination to be played.  Players also select the number of spins to be played, but the feature can be changed or turned on and off at any time during game play.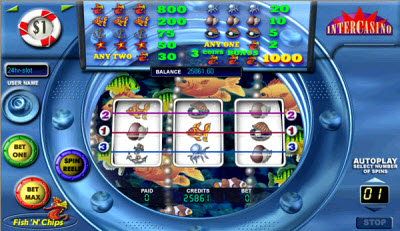 Winning Paylines on the Fish 'N' Chips Slot Machine
There are three total paylines offered in the three reel "Fish 'N' Chips" slots game.  The first payline runs through the center of the reels in a horizontal line.  The second payline spans the bottom of the three reels horizontally, and the third line runs horizontally through the top of the reels.
Payouts on Fish 'N' Chips Slots
There are ten total payouts in the game including the three coin bonus.  The eight hundred coin jackpot, which is won by getting three seahorse symbols on a single payline is changed to a one thousand coin jackpot for any player who gets all three symbols on a line while betting the three coin maximum.  Two hundred coins are awarded to any player who gets three fish on a single payline. 
Three anchors on a payline are worth seventy five coins.  When a player gets three starfish on a single payline, they are awarded a fifty coin payout.  Thirty coins await any player who gets two seahorses on a single payline.  Three octopi pay out a twenty coin divided, and a ten coin reward is paid to players who get three snails on a payline.  Three clams pay five coins when appearing on a single payline, and a single seahorse anywhere on a payline is worth two coins.  Players will also discover that it is possible to win on more than one payline in a single spin, opening up the chance for some fantastic winnings.
Our Top Pages
Online Casinos
Play Online Slots
Best Crypto Slots
Popular Pages