Relic Raiders Slot Machine
Relic Raiders online slots machine is packed full of every classic element that makes up a fantastic slots machine, this 4-row, 5-reel video slot with 50 paylines is guaranteed to entertain.
Here is a 4-row, 5-reel video slot with 50 paylines taking multiple coins with scatter wins, wild substitutes, free spins, and a bonus feature. There are up to 4 wager levels.
Bonus Games
To activate the bonus round in the Relic Raiders slot you will need 3 or more bonus symbols lining left to right on an enabled line. You can only win one bonus opportunity per spin, but you can activate the bonus while in free spin
Each bonus event begins with a map of the world displaying 4 tomb sites, Tintagel, Luxor, Tikal, and Angkor. You then select your tomb and enter it to find 8 urns. You can then break the earns to find bonus amounts or the relic. If you find a spider, though, your bonus game is over! If you find a relic, that city is then off-limits. If you find all 4 relics in all 4 tombs, you will earn the mystery bonus. Four golden statues will appear and your mystery win lies beneath the statue you select. The cool thing about this slot machine is that all the relics you find are saved for 36 hours, so you can collect them.
You will activate the free spins game in Relic Raiders slots when you get 3 or more scatter symbols in one spin. Once you spin three or more scatters, click on any one of them to reveal you free spins and multiplier amounts. The multiplier value will be between 1 and 5 and will multiply your free spin wins. Your bet will remain the same as when you activated the bonus, throughout the free spins. You can re-activate free spins during free spin mode with 2 or more scatter symbols. When you get more free spins, they are added to those you already have, and the multiplier is added to the multiplier you already have, with a maximum of 5x multiplier.
Payouts
All enabled wins are paid out according to the pay table. Scatter symbols multiply total bet by the scatter multiplier. Scatter wins, bonus wins, and free spin wins are paid in addition to payline wins. Only the highest win on an active payline will be paid and each highest win on each enabled line are added together. Except scatter wins, wins pay out left to right.
Conclusion
The Relic Raider slots game is full of action. The bonus feature is lucrative and the fact that the game saves your relics makes it even more fun to collect them. The relics will definitely spark your interest and keep you enthralled in your quest to find all 4 relics. Relic Raiders was created by NetEnt Gaming and is available at TowerGaming Casino.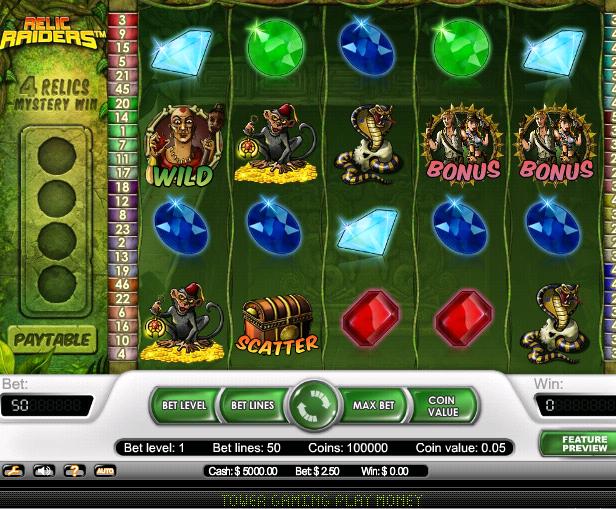 Net Entertainment 3 and 9 Reel Slots
Net Entertainment 5 Reel Slots
Our Top Pages
Online Casinos
Play Online Slots
Visit Casino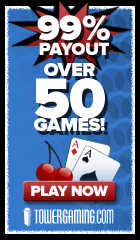 Popular Pages