Jackpot 6000 Slots
This is yet another innovative and creative Net Ent slot machine. Do not be disappointed by the 3-reel and 5 paylines; be intrigued by the double up game, the Supermeter mode, and the 6000-coin jackpot up for grabs. The good news is, you can cover all 5 paylines with a max bet of 10! You can also choose between a 10-size coin and a 20-size coin to maximize winnings even more. If you've played Mega Joker before, this game is similar, but it still will take some getting used to. Once you do get the hang of it though, it can be even harder to put down than a 5-reel slot with multiple bonus features!
Best Net Ent Casino Online

| | | |
| --- | --- | --- |
| | 100% up to $100 | |
| | 50% up to €200 | |

Jackpot 6000 Slots SuperMeter Mode
If you are going for the Jackpot 6000 Supermeter mode (which you should, otherwise you are wasting your time playing this game), always bet max. In the Supermeter mode, the stakes are higher: the bet level is 20 coins, automatically, with all 5 lines active. So, you cannot play in Supermeter unless you have a 20+ win. Each consecutive spin will be a 20-coin bet until your winnings are 0, when you will be demoted from Supermeter mode. You might want to make note that you cannot use your bankroll to play in Supermeter mode; you can only wager what you win on the most recent spins. You can "transfer" you Supermeter bankroll down, if you'd like, and continue playing in regular mode. What's even more exciting, in the Supermeter mode, is that if you spin 2+ Jokers, you will receive a mystery win in the amount of anywhere between 10 and 6000 coins! This is where you win the jackpot.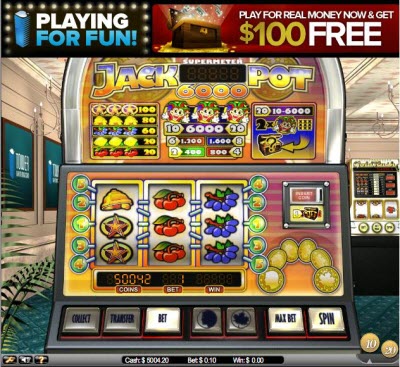 Heads or Tails Double Up Bonus Round on Jackpot 6000 Slot
Whenever you win on this slot, no matter how big or small, or how you won, you will have the opportunity to bet all or some of your winnings on heads or tails, for a fifty-fifty chance to double your wins. You can even continue playing heads or tails, as long as you are winning, or choose to collect and return the game. You can also click "Spin" and play in Supermeter mode if your winnings are 20+. If you lose, you will automatically be returned to the game.
Conclusion
This game is similar to the Mega Joker, but they each have their differences. Both games are a bit more complex than most slot machines, but don't get discouraged-it is easy to catch on once you play for while. Try the preview mode and play for fun first if you are nervous about the format. It is actually quite entertaining once you get the hang of it. Also, keep in mind, because of the small wagers, it may take a little longer for this slot to get hot. Keep spinning; it's worth it. Once you get a big win, it's a lot more fun to play in the Supermeter mode.
Net Entertainment 3 and 9 Reel Slots
Net Entertainment 5 Reel Slots
Our Top Pages
Online Casinos
Play Online Slots
Net Ent Casinos
Popular Pages