Mega Joker Slots
Mega Joker slots is a 2x3-reel multi-coin slot game with 5 paylines and is packed with features and animation. This game is another creation by Net Entertainment Gaming
How to Play Mega Joker Slots
This machine is a 2x3-reel multi-coin slot game with 5 paylines. It features a basic mode, a supermeter mode, and a progressive jackpot. With all of these things going on, this game has a lot of options for interesting play. Read on for further explanation of the opportunities for play on Mega Joker.
Best Net Ent Casino Online

| | | |
| --- | --- | --- |
| | 100% up to $100 | |
| | 50% up to €200 | |

Basic Mode
You can bet 1 coin or 10 coins in this mode. When you bet 1 coin, 1 payline is enabled. When you bet 10 coins, all 5 paylines are enabled. If you spin 3 jokers horizontally in this mode with a bet of one coin, you will get a mystery amount between 10 and 200. If you spin 3 jokers horizontally with 10 coins wagered, you will win a mystery amount between 20 and 40 coins.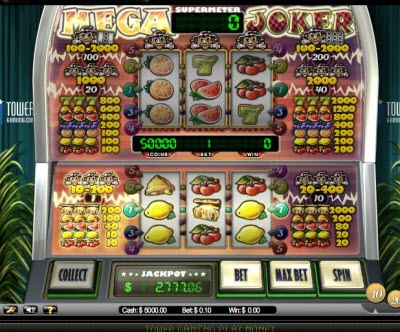 Supermeter Mode
You must wager the maximum bet of 10 to play in this mode. In order to play on the supermeter mode, you must hit a win in the basic mode (with the required wager of 10). Your basic mode winnings will then be transfered up to the supermeter game. There you can change your bet to 20, 40, 100, or 200 coins. If you win a small amount, like 40 or 60, you might want to click the "Bet" button to lower your wager, or you will automatically bet all you coins, up to 200, on one spin. A win of 20 coins on the basic mode will give you 1 spin on the supermeter. So, to really get into the supermeter, you have to win a large amount on the basic mode. While playing in the supermeter mode, all supermeter credits will be stored in the supermeter. The maximum win in this mode is 2000 coins (except for the jackpot). If you bet 100 and spin a Joker in the center reel, you will earn a mystery amount of anywhere between 100 and 2000 coins. If you bet 200, and get more than one Joker on any reels, you will also earn a mystery amount between 100 and 2000 coins.
Mega Joker Slots Payout
Wins on separate enabled paylines are added together in both modes. When playing in the supermeter mode, click "Collect" to transfer your credits from the supermeter and return to the basic mode.
Conclusion
The progressive jackpot is a nice addition to this game, and the more you wager, the better your chances of winning the jackpot are. There are two play options on this game. You can wait to hit it big in the basic mode, and then move up and play tight on the supermeter mode, or you can spend all your basic mode winnings to the max as soon as you get them and be immediately returned to the basic game. When I finally hit 1000 coins on the basic mode, then I really started enjoying playing on the supermeter. I lowered my bets to 20 and kept playing. Then I upped my wager to the 200 max after getting my supermeter winnings up to 2000 and they ran out really quick. Another option is to bank your supermeter when it gets up in the thousands, and start over in basic mode. I seemed to hit more winning combos and mystery bonuses on the supermeter. Hang in there until you get a big win and take advantage of the supermeter
Net Entertainment 3 and 9 Reel Slots
Net Entertainment 5 Reel Slots
Our Top Pages
Online Casinos
Play Online Slots
Net Ent Casinos
Popular Pages