Crusade of Fortune Slots
Crusade of Fortune slot is one of the better games created by NET Ent. It provides a two part bonus round and gives you the ability to interact with the machine. This page features information on the Crusade of Fortune slot machine and where you can play this slot online.
If you are into fantasy/adventure role playing games, the graphics on this slot game will spark your attention, as will the video game-like bonus feature that allows you to fight the crusade yourself in a battle similar to a Mortal Kombat game. If you are into massive payouts, like 300,000-coin bonus wins and 250,000-coin bonus wins, this slot game will spark your attention, as well. There are 20 possible paylines across 5 reels on this multi-coin video slot. It also offers wild and scatter symbols, a free spin bonus opportunity, and a killer bonus game.
Best Net Ent Casino Online

| | | |
| --- | --- | --- |
| | 100% up to $100 | |
| | 50% up to €200 | |

Special Symbols
Wild symbols will replace other symbols needed to complete winning combinations on enabled bet lines, except scatter and bonus combinations. Scatter symbols will multiply winnings. Scatter symbols are also activators for the Free spins feature (see below).
Crusade of Fortune Free Spins
Three+ scatter signs will trigger the free spins. Except for bonus wins, all payouts awarded during the free-spin mode will be tripled. Free spins can accumulate and will hold the bet throughout that was made on the initial activating spin.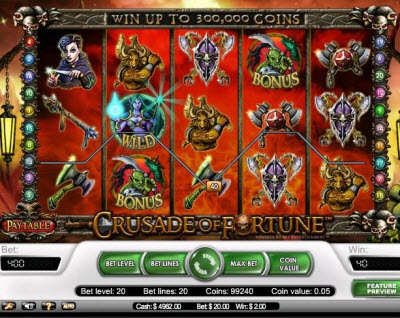 Crusade of Fortune Bonus Game
When you spin 3 or more bonus symbols on an active betline, the bonus game will activate. Click "Preview Feature" to get an idea of what this bonus is really about. You, the Warrior, are placed in battle against the Orc, your antagonist. Your bonus wins are based on the damage you make to the Orc's health, as well as how well you protect yourself and block the attacks of the Orc. Your bonus will accumulate throughout the battle. There are up to 3 battle rounds in which you have to kill the Orc. Upon killing the Orc, you will win an additional coin bonus treasure that the Orc will be carrying. There are two stages within each round.
In stage 1, you will attack the Orc by clicking on a high, middle, or low sword to select your level of attack. The Orc will counter your attacks with the same 3 levels of blocks (high, medium, and low). If the Orc is hit, he will lose 1/3 or 2/3 of his life, both of which you are awarded bonus values for. If the Orc blocks, you do not win a bonus value for that hit.
In stage 2, you will defend yourself against the attacks of the Orc with a shield level of high, medium, or low. The only way to score here is to block the attack correctly.
When either the Orc or the Warrior have lost their lives, or the 3 rounds are up, a fight bonus is added to already won bonus amounts, and the regular slot game continues. So, this bonus is still entirely a game of chance, but it incorporates a twist to the norm and offers a more exciting bonus feature.
Payouts on Crusade of Fortune Slots
Check the Paytable for specific payout amounts. Only one win is paid on each enabled line, but the more lines you enable, the more wins you can potentially generate. Regular wins lie from left to right, but scatter wins will payout from any position on the game area.
Conclusion
I am not a fan of the role-playing genre, but I can appreciate the intelligent incorporation of it into this game. The payouts do not come as often as some of the looser slots, probably because they are a bit higher and the bonus win is massive, but this game is original and utilizes a cutting-edge approach to video slots. I really wanted to get a stab at the bonus game, but I just couldn't make it happen. Perhaps you will have more luck, or patience, for that matter. Enjoy this game--it is a well-developed and thought out machine.
Net Entertainment 3 and 9 Reel Slots
Net Entertainment 5 Reel Slots
Our Top Pages
Online Casinos
Play Online Slots
Net Ent Casinos
Popular Pages