Warlock's Spell Slots
Prepare your spell book and cast your runes – Warlock's Spell slot machine is here!  This excellent new slot game from vaunted RTG offers gamblers a unique experience and the chance to win big.  With a number of interesting occult themes and graphics, as well as unique sound effects, this game provides an immersive fantasy environment for gaming pleasure. Warlock's Spell slot is a 5 reel slot game.  It features 20 paylines, as well as 20 winning combo possibilities.  With a bonus game, a wild symbol and a scatter symbol, this game offers you the options you need to make the most of your gambling time.  Minimum wager amount is 1 penny and maximum amount is $5, with a 20 coin maximum wager.
Our Top Picks for Playing Slots Online
| Casino | USA | Match | Bonus | Download |
| --- | --- | --- | --- | --- |
Progressive Jackpot Featured in Warlock's Spell Slots
Like many other RTG games, Warlock's Spell slots features a great primary jackpot, in conjunction with a progressive, random jackpot.  Throughout the game, this jackpot builds.  You can watch the amount on the center of the screen as it climbs.  At the end of the game, the jackpot will be randomly awarded, regardless of symbols uncovered, amount wagered or number of paylines used.  This ensures that everyone has a chance to gamble and win.
Warlock's Spell Winning PayLines
The fantasy theme of Warlock's Spell is deeply ingrained in the game's graphics.  You will find many unique icons used throughout, including spell books, crystal balls, witches, warlocks and more.  Each icon is custom designed and looks quite nice, fitting seamlessly with the theme. Both witches and warlocks are wild symbols in this slot game.  You will find the warlock symbol on reels 3, 4 and 5, while witches appear on reels 1, 2 and 3. Both of these can substitute for any other symbol in the game, other than the scatter symbol. The spell book is the scatter symbol for Warlock's Spell slot machine.  In addition, the spell book icon will multiply your winning by the total wager, rather than by the payline.  Collect these to open the Potion Prize bonus game and earn up to 100 free games.  The "up to" portion of the game hinges on your ability.  The faster you are able to collect the spell books, the more free games you are awarded!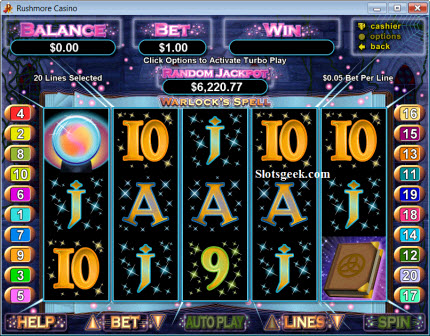 Warlock's Spell Bonus Round – Potion Prize Game
To play the Potion Prize game, you will need to choose potion components and attempt to break the spell cast by the Warlock.  If you are able to beat the spell, then you are rewarded richly with free spins and more.
How To Win on Warlock's Spell Slots
The highest payout possible in the game is 40,000 times the bet per line, which gives players a chance to win some serious cash as they battle the evil wizard for dominance.  Wagers can vary greatly, particularly when the bonus game has been opened.  This allows prizes to be tripled, during all possible 100 free games.
While this might be a penny slot, it offers rewards commensurate with higher rated slot games and is the ideal option for beginning or advanced gamers.  Anyone seeking a bit of otherworldly enjoyment can find a great deal in Warlock's Spell!
RTG 5 Reel Slots
| | | | | | | |
| --- | --- | --- | --- | --- | --- | --- |
| Slot Name | # Paylines | Scatter | Bonus | Wild | Max Spin $ | Max Jackpot |
| Achilles Slots | 20 | Yes | Yes | Yes | 100.00 | 10,000 Coins |
| Aladdin's Wishes Slots | 20 | Yes | Yes | Yes | 100.00 | 10,000 Coins |
| Aztec's Treasure Slots | 20 | Yes | Yes | Yes | 100.00 | 5000 Coins |
| Big Shot Slots | 20 | Yes | Yes | Yes | 100.00 | 2500 Coins |
| Boy King's Treasure Slots | 20 | Yes | Yes | Yes | 100.00 | 3600 Coins |
| Bunko Bonanza Slots | 20 | Yes | Yes | Yes | 100.00 | 2000 Coins |
| Caesar's Empire Slots | 20 | Yes | Yes | Yes | 100.00 | 2500 Coins |
| Cherry Red Slots | 25 | Yes | Yes | Yes | 125.00 | 10000 Coins |
| Cleopatra's Gold Slots | 20 | Yes | Yes | Yes | 100.00 | 2000 Coins |
| Coyote Cash Slots | 20 | Yes | Yes | Yes | 100.00 | 25000 Coins |
| Crazy Vegas Slots | 20 | Yes | Yes | Yes | 100.00 | 300 x Bet |
| Crystal Waters Slots | 20 | Yes | Yes | Yes | 100.00 | 4000 Coins |
| Derby Dollars Slots | 20 | Yes | Yes | Yes | 100.00 | 6000 Coins |
| Diamond Dozen Slots | 20 | Yes | Yes | Yes | 100.00 | 25000 Coins |
| Enchanted Garden Slots | 20 | Yes | Yes | Yes | 100.00 | 25000 Coins |
| Fame And Fortune Slots | 20 | Yes | Yes | Yes | 100.00 | 50000 Coins |
| Field Of Green Slots | 20 | Yes | Yes | Yes | 100.00 | 6000 Coins |
| Food Fight Slots | 20 | Yes | Yes | Yes | 45.00 | 6250 Coins |
| Fruit Frenzy Slots | 25 | Yes | Yes | Yes | 125.00 | 5000 Coins |
| Funky Monkey Slots | 20 | Yes | Yes | Yes | 100.00 | 2000 Coins |
| GoldBeard Slots | 20 | Yes | Yes | Yes | 100.00 | 5000 Coins |
| Golden Glove Slots | 20 | Yes | Yes | Yes | 100.00 | 5000 Coins |
| Golden Retriever Slots | 20 | Yes | Yes | No | 100.00 | 5000 Coins |
| Green Light Slots | 20 | Yes | Yes | Yes | 100.00 | 10,000 Coins |
| Hillbillies Slots | 20 | Yes | Yes | Yes | 100.00 | 5000 Coins |
| Happy Golden Ox Slots | 20 | Yes | Yes | Yes | 100.00 | 8888 Coins |
| Haunted Opera Slots | 9 | Yes | Yes | Yes | 45.00 | 10,000 Coins |
| Honey To The Bee Slots | 20 | Yes | Yes | Yes | 100.00 | 5000 Coins |
| Incan Goddess Slots | 20 | Yes | Yes | Yes | 100.00 | 5000 Coins |
| Jackpot Pinatas Slots | 20 | Yes | Yes | Yes | 100.00 | 20,000 Coins |
| Jazz Time Slots | 9 | No | Yes | No | 45.00 | 10,000 Coins |
| King of Swing Slots | 25 | Yes | Yes | Yes | 125.00 | 10,000 Coins |
| Loose Caboose Slots | 25 | Yes | Yes | Yes | 125.00 | 20,000 Coins |
| Lions Lair Slots | 20 | Yes | Yes | Yes | 100.00 | |
| Mermaid Queen Slots | 20 | Yes | Yes | Yes | 100.00 | 7500 Coins |
| Mister Money Slots | 20 | Yes | Yes | Yes | 100.00 | 5000 Coins |
| Mystic Dragon Slots | 25 | Yes | Yes | Yes | 125.00 | 20,000 Coins |
| Outta This World Slots | 20 | Yes | Yes | Yes | 100.00 | 7500 Coins |
| Paradise Dreams Slots | 20 | Yes | Yes | Yes | 100.00 | 5000 Coins |
| Paris Beauty Slots | 20 | Yes | Yes | Yes | 100.00 | 4500 Coins |
| Penguin Power Slots | 20 | Yes | Yes | Yes | 100.00 | 5000 Coins |
| Prince Of Sherwood Slots | 20 | Yes | Yes | Yes | 100.00 | 5000 Coins |
| Rain Dance Slots | 20 | Yes | Yes | Yes | 100.00 | 5000 Coins |
| Realm Of Riches Slots | 20 | Yes | Yes | Yes | 100.00 | 10,000 Coins |
| Red Sands Slots | 20 | Yes | Yes | Yes | 100.00 | 5000 Coins |
| Ronin Slots | 20 | Yes | Yes | Yes | 100.00 | 10,000 Coins |
| Rudolph's Revenge Slots | 50 | Yes | Yes | Yes | 250.00 | 5000 Coins |
| Sunken Treasure Slots | 20 | Yes | Yes | Yes | 100.00 | 5000 Coins |
| Super Diamond Mine Slots | 20 | Yes | Yes | Yes | 100.00 | 10,000 Coins |
| Tally Ho Slots | 20 | Yes | Yes | Yes | 100.00 | 10,000 Coins |
| Three Stooges Slots | 50 | Yes | Yes | Yes | 100.00 | 4500 Coins |
| Tiger Treasures Slots | 20 | Yes | Yes | Yes | 100.00 | 4500 Coins |
| Treasure Chamber Slots | 20 | Yes | Yes | Yes | 100.00 | 10,000 Coins |
| Texan Tycoon Slots | 25 | Yes | Yes | Yes | 125.00 | 15,000 Coins |
| T-Rex Slots | 20 | Yes | No | Yes | 100.00 | 10,000 Coins |
| Triple Toucan Slots | 20 | Yes | Yes | Yes | 100.00 | 9000 Coins |
| Victory Slots | 20 | Yes | Yes | Yes | 100.00 | 10,000 Coins |
| Vikings Voyage Slots | 20 | Yes | Yes | Yes | 100.00 | 5000 Coins |
| Warlock's Spell Slots | 20 | Yes | Yes | Yes | 100.00 | 10,000 Coins |
| Wooden Boy Slots | 20 | Yes | Yes | Yes | 100.00 | 40,000 Coins |
RTG Progressive Slots
| | | | | | | |
| --- | --- | --- | --- | --- | --- | --- |
| Slot Name | # Paylines | Scatter | Bonus | Wild | Max Spin $ | Max Jackpot |
| Frozen Assets Slots | 9 | Yes | Yes | Yes | 45.00 | Progressive |
| Aztec's Millions Slots | 25 | Yes | No | Yes | 5.00 | Progressive |
| Good To Be Bad Slots | 9 | Yes | Yes | Yes | 45.00 | Progressive |
| I.R.I.S. 3000 Slots | 7 | Yes | Yes | Yes | 35.00 | Progressive |
| Light Speed Slots | 9 | Yes | Yes | Yes | 45.00 | Progressive |
| Shopping Spree Slots | 9 | Yes | Yes | Yes | 45.00 | Progressive |
| The Shark Slots | 9 | Yes | Yes | No | 45.00 | Progressive |
| Mid-Life Crisis Slots | 9 | Yes | Yes | Yes | 45.00 | Progressive |