Triple 7 Inferno Slots
It's time to heat things up with Triple 7 Inferno slots!  This slot machine offers you fiery graphics and loads of style.  The entire setup is smokin' hot, actually!  Featuring, shall we say "warm", design and some of the most unique style in the industry, Triple 7 Inferno slots from RTG gives you the chance to enjoy some traditional slot gaming. Triple 7 Inferno slot machine is a traditional slot game, which means that it offers 3 reels and only 1 payline.  However, the wager options begin at 5 cents and range all the way up to $5 for your enjoyment. The top award through this game is 1,000 coins, but you will need to ensure that you play at maximum wager to attain this.
Our Top Picks for Playing Slots Online
| Casino | USA | Match | Bonus | Download |
| --- | --- | --- | --- | --- |
Progressive Jackpot on the Triple 7 Inferno Slot
Triple 7 Inferno, while being a very simple slot game, does offer a significant jackpot, with a maximum cap of 1,000 coins.  However, to stand a chance of hitting this jackpot, you must ensure that you bet max with every spin. If you do not do so, you will not qualify for the jackpot, even if you pull up the three flaming 7's required to win it.  However, because the game only has one payline, maximum betting is much more affordable than with other games.
Winning Paylines on Triple 7 Inferno Slot Machine
There are only 8 winning combinations in Triple 7 Inferno and there are no wild symbols or scatter symbols involved, either.  The icons used throughout the game are flame-related, such as fireballs, flaming 7's and others.  However, you will also find traditional symbols, such as mixed bars and single bars. Triple 7 Inferno is a very traditional slot game, offering a few ways to earn some significant money.  However, after the jackpot, the next highest payout is 400 coins.  The third highest payout is 200 coins.  Of course, one of the best things about this slot game is the fact that triple blank reels gets you your money back, so you lose nothing with this roll.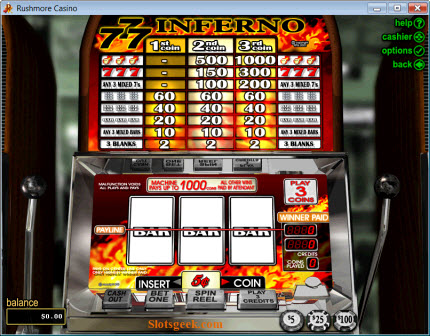 While the payout for Triple 7 Inferno is not fantastic, it does offer the progressive jackpot and, perhaps best, offers nostalgic appeal that will give diehard slot fans a great way to pass the time. The best way to enjoy the game is to make the maximum wager per spin and try to hit the jackpot. The jackpot can only be won with triple flaming 7's showing on the payline
Payouts on RTG's Triple 7 Inferno Slot Machine
Payouts vary greatly with the game, depending on the amount that you wager.  However, if you do not wager the maximum amount in the game, you will not be able to win the largest payouts possible.  Even if the reels land on the right combination of symbols, you will still receive a lower payout, if you choose to make less than the maximum wager. While this slot game is a bit simplistic, it has great appeal for those who enjoy no-nonsense slot gaming that hearkens back to the early days of land-based slot machines.  The game is progressive, so large winnings are possible, but the enjoyment of the game is the most important thing.
RTG 5 Reel Slots
| | | | | | | |
| --- | --- | --- | --- | --- | --- | --- |
| Slot Name | # Paylines | Scatter | Bonus | Wild | Max Spin $ | Max Jackpot |
| Achilles Slots | 20 | Yes | Yes | Yes | 100.00 | 10,000 Coins |
| Aladdin's Wishes Slots | 20 | Yes | Yes | Yes | 100.00 | 10,000 Coins |
| Aztec's Treasure Slots | 20 | Yes | Yes | Yes | 100.00 | 5000 Coins |
| Big Shot Slots | 20 | Yes | Yes | Yes | 100.00 | 2500 Coins |
| Boy King's Treasure Slots | 20 | Yes | Yes | Yes | 100.00 | 3600 Coins |
| Bunko Bonanza Slots | 20 | Yes | Yes | Yes | 100.00 | 2000 Coins |
| Caesar's Empire Slots | 20 | Yes | Yes | Yes | 100.00 | 2500 Coins |
| Cherry Red Slots | 25 | Yes | Yes | Yes | 125.00 | 10000 Coins |
| Cleopatra's Gold Slots | 20 | Yes | Yes | Yes | 100.00 | 2000 Coins |
| Coyote Cash Slots | 20 | Yes | Yes | Yes | 100.00 | 25000 Coins |
| Crazy Vegas Slots | 20 | Yes | Yes | Yes | 100.00 | 300 x Bet |
| Crystal Waters Slots | 20 | Yes | Yes | Yes | 100.00 | 4000 Coins |
| Derby Dollars Slots | 20 | Yes | Yes | Yes | 100.00 | 6000 Coins |
| Diamond Dozen Slots | 20 | Yes | Yes | Yes | 100.00 | 25000 Coins |
| Enchanted Garden Slots | 20 | Yes | Yes | Yes | 100.00 | 25000 Coins |
| Fame And Fortune Slots | 20 | Yes | Yes | Yes | 100.00 | 50000 Coins |
| Field Of Green Slots | 20 | Yes | Yes | Yes | 100.00 | 6000 Coins |
| Food Fight Slots | 20 | Yes | Yes | Yes | 45.00 | 6250 Coins |
| Fruit Frenzy Slots | 25 | Yes | Yes | Yes | 125.00 | 5000 Coins |
| Funky Monkey Slots | 20 | Yes | Yes | Yes | 100.00 | 2000 Coins |
| GoldBeard Slots | 20 | Yes | Yes | Yes | 100.00 | 5000 Coins |
| Golden Glove Slots | 20 | Yes | Yes | Yes | 100.00 | 5000 Coins |
| Golden Retriever Slots | 20 | Yes | Yes | No | 100.00 | 5000 Coins |
| Green Light Slots | 20 | Yes | Yes | Yes | 100.00 | 10,000 Coins |
| Hillbillies Slots | 20 | Yes | Yes | Yes | 100.00 | 5000 Coins |
| Happy Golden Ox Slots | 20 | Yes | Yes | Yes | 100.00 | 8888 Coins |
| Haunted Opera Slots | 9 | Yes | Yes | Yes | 45.00 | 10,000 Coins |
| Honey To The Bee Slots | 20 | Yes | Yes | Yes | 100.00 | 5000 Coins |
| Incan Goddess Slots | 20 | Yes | Yes | Yes | 100.00 | 5000 Coins |
| Jackpot Pinatas Slots | 20 | Yes | Yes | Yes | 100.00 | 20,000 Coins |
| Jazz Time Slots | 9 | No | Yes | No | 45.00 | 10,000 Coins |
| King of Swing Slots | 25 | Yes | Yes | Yes | 125.00 | 10,000 Coins |
| Loose Caboose Slots | 25 | Yes | Yes | Yes | 125.00 | 20,000 Coins |
| Lions Lair Slots | 20 | Yes | Yes | Yes | 100.00 | |
| Mermaid Queen Slots | 20 | Yes | Yes | Yes | 100.00 | 7500 Coins |
| Mister Money Slots | 20 | Yes | Yes | Yes | 100.00 | 5000 Coins |
| Mystic Dragon Slots | 25 | Yes | Yes | Yes | 125.00 | 20,000 Coins |
| Outta This World Slots | 20 | Yes | Yes | Yes | 100.00 | 7500 Coins |
| Paradise Dreams Slots | 20 | Yes | Yes | Yes | 100.00 | 5000 Coins |
| Paris Beauty Slots | 20 | Yes | Yes | Yes | 100.00 | 4500 Coins |
| Penguin Power Slots | 20 | Yes | Yes | Yes | 100.00 | 5000 Coins |
| Prince Of Sherwood Slots | 20 | Yes | Yes | Yes | 100.00 | 5000 Coins |
| Rain Dance Slots | 20 | Yes | Yes | Yes | 100.00 | 5000 Coins |
| Realm Of Riches Slots | 20 | Yes | Yes | Yes | 100.00 | 10,000 Coins |
| Red Sands Slots | 20 | Yes | Yes | Yes | 100.00 | 5000 Coins |
| Ronin Slots | 20 | Yes | Yes | Yes | 100.00 | 10,000 Coins |
| Rudolph's Revenge Slots | 50 | Yes | Yes | Yes | 250.00 | 5000 Coins |
| Sunken Treasure Slots | 20 | Yes | Yes | Yes | 100.00 | 5000 Coins |
| Super Diamond Mine Slots | 20 | Yes | Yes | Yes | 100.00 | 10,000 Coins |
| Tally Ho Slots | 20 | Yes | Yes | Yes | 100.00 | 10,000 Coins |
| Three Stooges Slots | 50 | Yes | Yes | Yes | 100.00 | 4500 Coins |
| Tiger Treasures Slots | 20 | Yes | Yes | Yes | 100.00 | 4500 Coins |
| Treasure Chamber Slots | 20 | Yes | Yes | Yes | 100.00 | 10,000 Coins |
| Texan Tycoon Slots | 25 | Yes | Yes | Yes | 125.00 | 15,000 Coins |
| T-Rex Slots | 20 | Yes | No | Yes | 100.00 | 10,000 Coins |
| Triple Toucan Slots | 20 | Yes | Yes | Yes | 100.00 | 9000 Coins |
| Victory Slots | 20 | Yes | Yes | Yes | 100.00 | 10,000 Coins |
| Vikings Voyage Slots | 20 | Yes | Yes | Yes | 100.00 | 5000 Coins |
| Warlock's Spell Slots | 20 | Yes | Yes | Yes | 100.00 | 10,000 Coins |
| Wooden Boy Slots | 20 | Yes | Yes | Yes | 100.00 | 40,000 Coins |
RTG Progressive Slots
| | | | | | | |
| --- | --- | --- | --- | --- | --- | --- |
| Slot Name | # Paylines | Scatter | Bonus | Wild | Max Spin $ | Max Jackpot |
| Frozen Assets Slots | 9 | Yes | Yes | Yes | 45.00 | Progressive |
| Aztec's Millions Slots | 25 | Yes | No | Yes | 5.00 | Progressive |
| Good To Be Bad Slots | 9 | Yes | Yes | Yes | 45.00 | Progressive |
| I.R.I.S. 3000 Slots | 7 | Yes | Yes | Yes | 35.00 | Progressive |
| Light Speed Slots | 9 | Yes | Yes | Yes | 45.00 | Progressive |
| Shopping Spree Slots | 9 | Yes | Yes | Yes | 45.00 | Progressive |
| The Shark Slots | 9 | Yes | Yes | No | 45.00 | Progressive |
| Mid-Life Crisis Slots | 9 | Yes | Yes | Yes | 45.00 | Progressive |