Rudolph's Revenge Slots
For players seeking a fun, expansive option for their gaming enjoyment, Rudolph's Revenge slot machine has much to offer.  Featuring five reels and 50 total paylines, this excellent slot game offers the excitement demanded by both novice and advanced gamblers.  Rudolph's Revenge features a fun theme, following your favorite red-nosed reindeer, Rudolph as he takes his revenge on Santa and the elves. In addition, Rudolph's Revenge slots feature a progressive jackpot, as well as numerous ways in which to win. The "options" button actually allows players to enter another screen and personalize game play to meet their wants and needs, which is a significant difference over other slot games.
Our Top Picks for Playing Slots Online
| Casino | USA | Match | Bonus | Download |
| --- | --- | --- | --- | --- |
Progressive Jackpot on Rudolph's Revenge Slots
The progressive jackpot in Rudolph's Revenge slots give players the chance to win a constantly updating jackpot.  When five Rudolph symbols (the red-nosed reindeer himself, wielding a baseball bat), you win the jackpot.  Any jackpot win is added to your total winnings and paid out at the end of the game.
Winning Paylines on Rudolph's Revenge Slots
Rudolph's Revenge slot machine features numerous humorous icons.  You'll see Rudolph, in full rebellion and seeking revenge.  He is also the wild symbol, as well as the multiplier symbol.  Scatter symbols are "bombs" and can be combined with either Rudolph or the Santa symbol for additional effects and prizes. Other symbols seen throughout the game include elves frozen in ice, frosty elves with their teeth chattering, Santa's workshop, complete with candy cane columns and snow falling, as well as the Ace, King, Queen, Jack, 10 and 9 all wrapped up like Christmas gifts.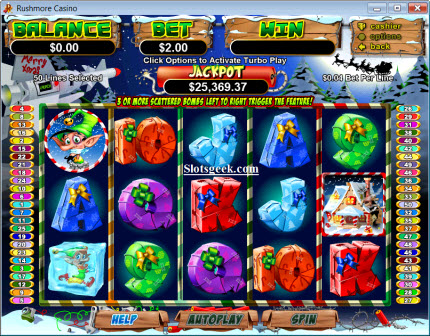 The game features a mandatory 50 line bet per spin, though the fixed bet amount is only a mere $2, which equates to only 4 cents per line bet. The "skill stop" feature allows you to stop the spinning reels at the touch of a button, enabling skilled players to try to hit it big, and novice players to try their hand at the big leagues.
To enter the free spin bonus round, you must roll five bomb symbols.  However, during your free spin rounds, both Santa symbols and bomb symbols act as Rudolph symbols, multiplying winnings and acting as wild symbols to replace any other symbol (other than special symbols, of course)
How to Win Big on Rudolph's Revenge Slot Machine
It is important to note that Rudolph's Revenge slots only pays out on the highest combination on each payline.  Any inferior combinations are discarded and receive no winnings.  Of course, in order to win, all symbols must appear in left to right order, though bomb symbols can be scattered throughout the reels.
If Rudolph appears in a winning combination, your winnings are doubled (not applicable to the progressive jackpot).  In addition, while the amount of your winnings will vary on game play, the maximum amount you can win is 50,000 times the bet made per line, on each spin.  This gives novice and experienced gamers a chance to win some serious cash, while helping Rudolph break out of his Christmas Eve routine a bit.  Rudolph's Revenge offers excellent fun for any gambler and the chance to win some real rewards, thanks to the progressive jackpot.
RTG 5 Reel Slots
| | | | | | | |
| --- | --- | --- | --- | --- | --- | --- |
| Slot Name | # Paylines | Scatter | Bonus | Wild | Max Spin $ | Max Jackpot |
| Achilles Slots | 20 | Yes | Yes | Yes | 100.00 | 10,000 Coins |
| Aladdin's Wishes Slots | 20 | Yes | Yes | Yes | 100.00 | 10,000 Coins |
| Aztec's Treasure Slots | 20 | Yes | Yes | Yes | 100.00 | 5000 Coins |
| Big Shot Slots | 20 | Yes | Yes | Yes | 100.00 | 2500 Coins |
| Boy King's Treasure Slots | 20 | Yes | Yes | Yes | 100.00 | 3600 Coins |
| Bunko Bonanza Slots | 20 | Yes | Yes | Yes | 100.00 | 2000 Coins |
| Caesar's Empire Slots | 20 | Yes | Yes | Yes | 100.00 | 2500 Coins |
| Cherry Red Slots | 25 | Yes | Yes | Yes | 125.00 | 10000 Coins |
| Cleopatra's Gold Slots | 20 | Yes | Yes | Yes | 100.00 | 2000 Coins |
| Coyote Cash Slots | 20 | Yes | Yes | Yes | 100.00 | 25000 Coins |
| Crazy Vegas Slots | 20 | Yes | Yes | Yes | 100.00 | 300 x Bet |
| Crystal Waters Slots | 20 | Yes | Yes | Yes | 100.00 | 4000 Coins |
| Derby Dollars Slots | 20 | Yes | Yes | Yes | 100.00 | 6000 Coins |
| Diamond Dozen Slots | 20 | Yes | Yes | Yes | 100.00 | 25000 Coins |
| Enchanted Garden Slots | 20 | Yes | Yes | Yes | 100.00 | 25000 Coins |
| Fame And Fortune Slots | 20 | Yes | Yes | Yes | 100.00 | 50000 Coins |
| Field Of Green Slots | 20 | Yes | Yes | Yes | 100.00 | 6000 Coins |
| Food Fight Slots | 20 | Yes | Yes | Yes | 45.00 | 6250 Coins |
| Fruit Frenzy Slots | 25 | Yes | Yes | Yes | 125.00 | 5000 Coins |
| Funky Monkey Slots | 20 | Yes | Yes | Yes | 100.00 | 2000 Coins |
| GoldBeard Slots | 20 | Yes | Yes | Yes | 100.00 | 5000 Coins |
| Golden Glove Slots | 20 | Yes | Yes | Yes | 100.00 | 5000 Coins |
| Golden Retriever Slots | 20 | Yes | Yes | No | 100.00 | 5000 Coins |
| Green Light Slots | 20 | Yes | Yes | Yes | 100.00 | 10,000 Coins |
| Hillbillies Slots | 20 | Yes | Yes | Yes | 100.00 | 5000 Coins |
| Happy Golden Ox Slots | 20 | Yes | Yes | Yes | 100.00 | 8888 Coins |
| Haunted Opera Slots | 9 | Yes | Yes | Yes | 45.00 | 10,000 Coins |
| Honey To The Bee Slots | 20 | Yes | Yes | Yes | 100.00 | 5000 Coins |
| Incan Goddess Slots | 20 | Yes | Yes | Yes | 100.00 | 5000 Coins |
| Jackpot Pinatas Slots | 20 | Yes | Yes | Yes | 100.00 | 20,000 Coins |
| Jazz Time Slots | 9 | No | Yes | No | 45.00 | 10,000 Coins |
| King of Swing Slots | 25 | Yes | Yes | Yes | 125.00 | 10,000 Coins |
| Loose Caboose Slots | 25 | Yes | Yes | Yes | 125.00 | 20,000 Coins |
| Lions Lair Slots | 20 | Yes | Yes | Yes | 100.00 | |
| Mermaid Queen Slots | 20 | Yes | Yes | Yes | 100.00 | 7500 Coins |
| Mister Money Slots | 20 | Yes | Yes | Yes | 100.00 | 5000 Coins |
| Mystic Dragon Slots | 25 | Yes | Yes | Yes | 125.00 | 20,000 Coins |
| Outta This World Slots | 20 | Yes | Yes | Yes | 100.00 | 7500 Coins |
| Paradise Dreams Slots | 20 | Yes | Yes | Yes | 100.00 | 5000 Coins |
| Paris Beauty Slots | 20 | Yes | Yes | Yes | 100.00 | 4500 Coins |
| Penguin Power Slots | 20 | Yes | Yes | Yes | 100.00 | 5000 Coins |
| Prince Of Sherwood Slots | 20 | Yes | Yes | Yes | 100.00 | 5000 Coins |
| Rain Dance Slots | 20 | Yes | Yes | Yes | 100.00 | 5000 Coins |
| Realm Of Riches Slots | 20 | Yes | Yes | Yes | 100.00 | 10,000 Coins |
| Red Sands Slots | 20 | Yes | Yes | Yes | 100.00 | 5000 Coins |
| Ronin Slots | 20 | Yes | Yes | Yes | 100.00 | 10,000 Coins |
| Rudolph's Revenge Slots | 50 | Yes | Yes | Yes | 250.00 | 5000 Coins |
| Sunken Treasure Slots | 20 | Yes | Yes | Yes | 100.00 | 5000 Coins |
| Super Diamond Mine Slots | 20 | Yes | Yes | Yes | 100.00 | 10,000 Coins |
| Tally Ho Slots | 20 | Yes | Yes | Yes | 100.00 | 10,000 Coins |
| Three Stooges Slots | 50 | Yes | Yes | Yes | 100.00 | 4500 Coins |
| Tiger Treasures Slots | 20 | Yes | Yes | Yes | 100.00 | 4500 Coins |
| Treasure Chamber Slots | 20 | Yes | Yes | Yes | 100.00 | 10,000 Coins |
| Texan Tycoon Slots | 25 | Yes | Yes | Yes | 125.00 | 15,000 Coins |
| T-Rex Slots | 20 | Yes | No | Yes | 100.00 | 10,000 Coins |
| Triple Toucan Slots | 20 | Yes | Yes | Yes | 100.00 | 9000 Coins |
| Victory Slots | 20 | Yes | Yes | Yes | 100.00 | 10,000 Coins |
| Vikings Voyage Slots | 20 | Yes | Yes | Yes | 100.00 | 5000 Coins |
| Warlock's Spell Slots | 20 | Yes | Yes | Yes | 100.00 | 10,000 Coins |
| Wooden Boy Slots | 20 | Yes | Yes | Yes | 100.00 | 40,000 Coins |
RTG Progressive Slots
| | | | | | | |
| --- | --- | --- | --- | --- | --- | --- |
| Slot Name | # Paylines | Scatter | Bonus | Wild | Max Spin $ | Max Jackpot |
| Frozen Assets Slots | 9 | Yes | Yes | Yes | 45.00 | Progressive |
| Aztec's Millions Slots | 25 | Yes | No | Yes | 5.00 | Progressive |
| Good To Be Bad Slots | 9 | Yes | Yes | Yes | 45.00 | Progressive |
| I.R.I.S. 3000 Slots | 7 | Yes | Yes | Yes | 35.00 | Progressive |
| Light Speed Slots | 9 | Yes | Yes | Yes | 45.00 | Progressive |
| Shopping Spree Slots | 9 | Yes | Yes | Yes | 45.00 | Progressive |
| The Shark Slots | 9 | Yes | Yes | No | 45.00 | Progressive |
| Mid-Life Crisis Slots | 9 | Yes | Yes | Yes | 45.00 | Progressive |