Sunken Treasure Slots
Featuring a fun, underwater theme, Sunken Treasure is an excellent slot machine, brought to you by Real Time Gaming (RTG).  Sunken treasure features fun graphics and depictions of underwater flora and fauna.  Iconic elements include seaweed draped readouts, worn wood and tarnished gold script. Sunken Treasure is a five reel, 20 payline game that offers players a lot of fun and even features a treasure bonus game (with two stages) to enhance player enjoyment.  Throw into that mix the random, progressive jackpot and you have a slot game that offers an incredible amount of enjoyment and fun.
Our Top Picks for Playing Slots Online
| Casino | USA | Match | Bonus | Download |
| --- | --- | --- | --- | --- |
Progressive Jackpot on Sunken Treasure Slots
The progressive jackpot in Sunken Treasure is random, which enhances enjoyment.  As the jackpot is progressive, it will increase in value throughout the game.  Of course, the random aspect means that you can win the jackpot on any spin at all.  However, you will have to play with maximum bet amounts and maximum number of paylines in order to qualify for the jackpot.  Jackpot amounts are added to your winnings at the end of the game.
Winning Paylines on Sunken Treasure Slots
Icons used throughout Sunken Treasure evoke a watery world of mystery and gold. Gold filled treasure chests, happy starfish, frolicking fish, sunken ships, anchors and, of course, seaweed bedecked Ace, King, Queen, Jack, 10 and 9 symbols are found throughout the game.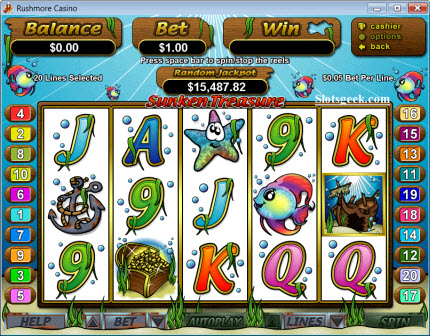 The jackpot symbol is the treasure chest stuffed with gold doubloons, though you will have to roll five of these on a single payline to hit the 2,500 coin jackpot.  The deep sea diver is the wild symbol of the game and can substitute for any other symbol, other than special symbols.  When the deep sea diver completes the jackpot spin, you can win 5,000 coins, rather than the 2,500 for a standard jackpot.
The diver symbol appears on reels 2, 3 and 4, enabling you to rack up on your winnings.  The scatter symbol within the game is the castle symbol or the ship wreck symbol.  Two or more of these symbols gives you a win, as well as a tremendous multiplier.The diver symbol also operates as a winnings multiplier, giving you double the amount won any time it appears in a winning combination.
Sunken Treasure Slot Machine Bonus Feature
The bonus game is called the Treasure Dive and gives you the opportunity to choose treasure chests containing prizes.  You can win free spins, multiplier amounts and even make it into another bonus game, called the Jewel Pick Feature.  This allows you to increase your winnings by 500 times!
Winning on Sunken Treasure Slots
Payouts for Sunken Treasure slots vary by the amount bet, as well as the number of paylines on which you bet.  Minimum bet amount is only a single cent, and the maximum is $5 per line, with 20 coins being the maximum for the entire thing. Enable the free practice mode to try your hand at the game with no risk, or jump right in, hoping to hit that progressive jackpot and earn some serious cash for your underwater adventuring.  Sunken Treasure offers the chance to make real wins, with great ease.
RTG 5 Reel Slots
| | | | | | | |
| --- | --- | --- | --- | --- | --- | --- |
| Slot Name | # Paylines | Scatter | Bonus | Wild | Max Spin $ | Max Jackpot |
| Achilles Slots | 20 | Yes | Yes | Yes | 100.00 | 10,000 Coins |
| Aladdin's Wishes Slots | 20 | Yes | Yes | Yes | 100.00 | 10,000 Coins |
| Aztec's Treasure Slots | 20 | Yes | Yes | Yes | 100.00 | 5000 Coins |
| Big Shot Slots | 20 | Yes | Yes | Yes | 100.00 | 2500 Coins |
| Boy King's Treasure Slots | 20 | Yes | Yes | Yes | 100.00 | 3600 Coins |
| Bunko Bonanza Slots | 20 | Yes | Yes | Yes | 100.00 | 2000 Coins |
| Caesar's Empire Slots | 20 | Yes | Yes | Yes | 100.00 | 2500 Coins |
| Cherry Red Slots | 25 | Yes | Yes | Yes | 125.00 | 10000 Coins |
| Cleopatra's Gold Slots | 20 | Yes | Yes | Yes | 100.00 | 2000 Coins |
| Coyote Cash Slots | 20 | Yes | Yes | Yes | 100.00 | 25000 Coins |
| Crazy Vegas Slots | 20 | Yes | Yes | Yes | 100.00 | 300 x Bet |
| Crystal Waters Slots | 20 | Yes | Yes | Yes | 100.00 | 4000 Coins |
| Derby Dollars Slots | 20 | Yes | Yes | Yes | 100.00 | 6000 Coins |
| Diamond Dozen Slots | 20 | Yes | Yes | Yes | 100.00 | 25000 Coins |
| Enchanted Garden Slots | 20 | Yes | Yes | Yes | 100.00 | 25000 Coins |
| Fame And Fortune Slots | 20 | Yes | Yes | Yes | 100.00 | 50000 Coins |
| Field Of Green Slots | 20 | Yes | Yes | Yes | 100.00 | 6000 Coins |
| Food Fight Slots | 20 | Yes | Yes | Yes | 45.00 | 6250 Coins |
| Fruit Frenzy Slots | 25 | Yes | Yes | Yes | 125.00 | 5000 Coins |
| Funky Monkey Slots | 20 | Yes | Yes | Yes | 100.00 | 2000 Coins |
| GoldBeard Slots | 20 | Yes | Yes | Yes | 100.00 | 5000 Coins |
| Golden Glove Slots | 20 | Yes | Yes | Yes | 100.00 | 5000 Coins |
| Golden Retriever Slots | 20 | Yes | Yes | No | 100.00 | 5000 Coins |
| Green Light Slots | 20 | Yes | Yes | Yes | 100.00 | 10,000 Coins |
| Hillbillies Slots | 20 | Yes | Yes | Yes | 100.00 | 5000 Coins |
| Happy Golden Ox Slots | 20 | Yes | Yes | Yes | 100.00 | 8888 Coins |
| Haunted Opera Slots | 9 | Yes | Yes | Yes | 45.00 | 10,000 Coins |
| Honey To The Bee Slots | 20 | Yes | Yes | Yes | 100.00 | 5000 Coins |
| Incan Goddess Slots | 20 | Yes | Yes | Yes | 100.00 | 5000 Coins |
| Jackpot Pinatas Slots | 20 | Yes | Yes | Yes | 100.00 | 20,000 Coins |
| Jazz Time Slots | 9 | No | Yes | No | 45.00 | 10,000 Coins |
| King of Swing Slots | 25 | Yes | Yes | Yes | 125.00 | 10,000 Coins |
| Loose Caboose Slots | 25 | Yes | Yes | Yes | 125.00 | 20,000 Coins |
| Lions Lair Slots | 20 | Yes | Yes | Yes | 100.00 | |
| Mermaid Queen Slots | 20 | Yes | Yes | Yes | 100.00 | 7500 Coins |
| Mister Money Slots | 20 | Yes | Yes | Yes | 100.00 | 5000 Coins |
| Mystic Dragon Slots | 25 | Yes | Yes | Yes | 125.00 | 20,000 Coins |
| Outta This World Slots | 20 | Yes | Yes | Yes | 100.00 | 7500 Coins |
| Paradise Dreams Slots | 20 | Yes | Yes | Yes | 100.00 | 5000 Coins |
| Paris Beauty Slots | 20 | Yes | Yes | Yes | 100.00 | 4500 Coins |
| Penguin Power Slots | 20 | Yes | Yes | Yes | 100.00 | 5000 Coins |
| Prince Of Sherwood Slots | 20 | Yes | Yes | Yes | 100.00 | 5000 Coins |
| Rain Dance Slots | 20 | Yes | Yes | Yes | 100.00 | 5000 Coins |
| Realm Of Riches Slots | 20 | Yes | Yes | Yes | 100.00 | 10,000 Coins |
| Red Sands Slots | 20 | Yes | Yes | Yes | 100.00 | 5000 Coins |
| Ronin Slots | 20 | Yes | Yes | Yes | 100.00 | 10,000 Coins |
| Rudolph's Revenge Slots | 50 | Yes | Yes | Yes | 250.00 | 5000 Coins |
| Sunken Treasure Slots | 20 | Yes | Yes | Yes | 100.00 | 5000 Coins |
| Super Diamond Mine Slots | 20 | Yes | Yes | Yes | 100.00 | 10,000 Coins |
| Tally Ho Slots | 20 | Yes | Yes | Yes | 100.00 | 10,000 Coins |
| Three Stooges Slots | 50 | Yes | Yes | Yes | 100.00 | 4500 Coins |
| Tiger Treasures Slots | 20 | Yes | Yes | Yes | 100.00 | 4500 Coins |
| Treasure Chamber Slots | 20 | Yes | Yes | Yes | 100.00 | 10,000 Coins |
| Texan Tycoon Slots | 25 | Yes | Yes | Yes | 125.00 | 15,000 Coins |
| T-Rex Slots | 20 | Yes | No | Yes | 100.00 | 10,000 Coins |
| Triple Toucan Slots | 20 | Yes | Yes | Yes | 100.00 | 9000 Coins |
| Victory Slots | 20 | Yes | Yes | Yes | 100.00 | 10,000 Coins |
| Vikings Voyage Slots | 20 | Yes | Yes | Yes | 100.00 | 5000 Coins |
| Warlock's Spell Slots | 20 | Yes | Yes | Yes | 100.00 | 10,000 Coins |
| Wooden Boy Slots | 20 | Yes | Yes | Yes | 100.00 | 40,000 Coins |
RTG Progressive Slots
| | | | | | | |
| --- | --- | --- | --- | --- | --- | --- |
| Slot Name | # Paylines | Scatter | Bonus | Wild | Max Spin $ | Max Jackpot |
| Frozen Assets Slots | 9 | Yes | Yes | Yes | 45.00 | Progressive |
| Aztec's Millions Slots | 25 | Yes | No | Yes | 5.00 | Progressive |
| Good To Be Bad Slots | 9 | Yes | Yes | Yes | 45.00 | Progressive |
| I.R.I.S. 3000 Slots | 7 | Yes | Yes | Yes | 35.00 | Progressive |
| Light Speed Slots | 9 | Yes | Yes | Yes | 45.00 | Progressive |
| Shopping Spree Slots | 9 | Yes | Yes | Yes | 45.00 | Progressive |
| The Shark Slots | 9 | Yes | Yes | No | 45.00 | Progressive |
| Mid-Life Crisis Slots | 9 | Yes | Yes | Yes | 45.00 | Progressive |