Jazz Time Slots
Jazz Time slots adds a musical twist to the reels and some interesting bonus games, as well. It can be played conservatively but the high-roller types will like the rewards for betting a bit more. The symbols on Jazz Time slots are musical instruments. The standard payouts for getting the instruments are listed on the top of the screen to make the game easy to play. There are also special instruments that come in parts—the drum kit—and a piano symbol that unlocks one of the game's more interesting features. This game has some great sound effects to make it more interesting. Straightforward to learn, this game has some high potential payouts.
Our Top Picks for Playing Slots Online
| Casino | USA | Match | Bonus | Download |
| --- | --- | --- | --- | --- |
Using the AutoPlay Feature on Jazz Time Slots
This game is not equipped with an autoplay feature. It does contain features that make increasing or decreasing one's bet very easy, however. There is also a "Max Bet" button that allows a player to switch over to a more high-stakes mode of play with one click.
Winning PayLines on Jazz Time Slot Machine
There are nine lines on which a player may bet in Jazz Time slots. One may select their lines at the beginning of each round, changing them if they have a feeling that they should make a different choice. During the selection process, the interface color codes the lines and requests the amount to be bid on each line. The lines divide each reel stop position into thirds which makes one's odds of a winning spin much higher by simply playing a few more lines. There are five reels in this game.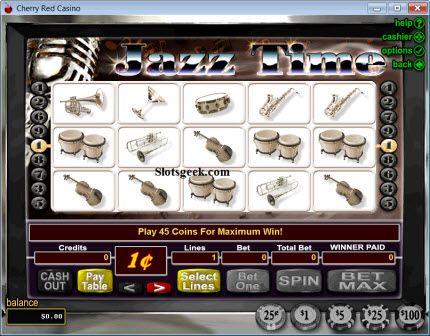 Winning Big on Jazz Time Slots
One of the game's higher payouts is won by matching up a drum kit in pieces. The hi-hat, snare and other symbols will announce themselves with a sample sound as they come up on the reels. When one gets the full drum kit, the bonus phase opens up. The drum kit pieces open up the Big Money Scatter Bonus. This bonus has a maximum payout of 350 coins and will progress with the same lines and bet as the triggering spin.
The other bonus phase is achieved by getting 5 piano symbols on a spin. This opens up the Jazz Jam phase which offers a game-within-a-game bonus which involves a bit of jamming on the player's part. The player selects an instrument from the interface. If that instrument happens to harmonize with the music being played, the player may continue on with the bonus round and win more credits. If the instrument is flat, the player will return to normal play.
This game has a regular jackpot of 10,000 coins. To win this amount, the player needs to have 5 microphone symbols appear on their selected lines. The maximum bet per line is 5 credits. All bets made in Jazz Time slots are converted to credits, not to dollar amounts and there are several different denominations available, spanning from $.01 to $5 at a time.
This game definitely offers a new twist on slot gaming. The sounds are particularly lively and interesting and represent the instruments shown.
RTG 5 Reel Slots
| | | | | | | |
| --- | --- | --- | --- | --- | --- | --- |
| Slot Name | # Paylines | Scatter | Bonus | Wild | Max Spin $ | Max Jackpot |
| Achilles Slots | 20 | Yes | Yes | Yes | 100.00 | 10,000 Coins |
| Aladdin's Wishes Slots | 20 | Yes | Yes | Yes | 100.00 | 10,000 Coins |
| Aztec's Treasure Slots | 20 | Yes | Yes | Yes | 100.00 | 5000 Coins |
| Big Shot Slots | 20 | Yes | Yes | Yes | 100.00 | 2500 Coins |
| Boy King's Treasure Slots | 20 | Yes | Yes | Yes | 100.00 | 3600 Coins |
| Bunko Bonanza Slots | 20 | Yes | Yes | Yes | 100.00 | 2000 Coins |
| Caesar's Empire Slots | 20 | Yes | Yes | Yes | 100.00 | 2500 Coins |
| Cherry Red Slots | 25 | Yes | Yes | Yes | 125.00 | 10000 Coins |
| Cleopatra's Gold Slots | 20 | Yes | Yes | Yes | 100.00 | 2000 Coins |
| Coyote Cash Slots | 20 | Yes | Yes | Yes | 100.00 | 25000 Coins |
| Crazy Vegas Slots | 20 | Yes | Yes | Yes | 100.00 | 300 x Bet |
| Crystal Waters Slots | 20 | Yes | Yes | Yes | 100.00 | 4000 Coins |
| Derby Dollars Slots | 20 | Yes | Yes | Yes | 100.00 | 6000 Coins |
| Diamond Dozen Slots | 20 | Yes | Yes | Yes | 100.00 | 25000 Coins |
| Enchanted Garden Slots | 20 | Yes | Yes | Yes | 100.00 | 25000 Coins |
| Fame And Fortune Slots | 20 | Yes | Yes | Yes | 100.00 | 50000 Coins |
| Field Of Green Slots | 20 | Yes | Yes | Yes | 100.00 | 6000 Coins |
| Food Fight Slots | 20 | Yes | Yes | Yes | 45.00 | 6250 Coins |
| Fruit Frenzy Slots | 25 | Yes | Yes | Yes | 125.00 | 5000 Coins |
| Funky Monkey Slots | 20 | Yes | Yes | Yes | 100.00 | 2000 Coins |
| GoldBeard Slots | 20 | Yes | Yes | Yes | 100.00 | 5000 Coins |
| Golden Glove Slots | 20 | Yes | Yes | Yes | 100.00 | 5000 Coins |
| Golden Retriever Slots | 20 | Yes | Yes | No | 100.00 | 5000 Coins |
| Green Light Slots | 20 | Yes | Yes | Yes | 100.00 | 10,000 Coins |
| Hillbillies Slots | 20 | Yes | Yes | Yes | 100.00 | 5000 Coins |
| Happy Golden Ox Slots | 20 | Yes | Yes | Yes | 100.00 | 8888 Coins |
| Haunted Opera Slots | 9 | Yes | Yes | Yes | 45.00 | 10,000 Coins |
| Honey To The Bee Slots | 20 | Yes | Yes | Yes | 100.00 | 5000 Coins |
| Incan Goddess Slots | 20 | Yes | Yes | Yes | 100.00 | 5000 Coins |
| Jackpot Pinatas Slots | 20 | Yes | Yes | Yes | 100.00 | 20,000 Coins |
| Jazz Time Slots | 9 | No | Yes | No | 45.00 | 10,000 Coins |
| King of Swing Slots | 25 | Yes | Yes | Yes | 125.00 | 10,000 Coins |
| Loose Caboose Slots | 25 | Yes | Yes | Yes | 125.00 | 20,000 Coins |
| Lions Lair Slots | 20 | Yes | Yes | Yes | 100.00 | |
| Mermaid Queen Slots | 20 | Yes | Yes | Yes | 100.00 | 7500 Coins |
| Mister Money Slots | 20 | Yes | Yes | Yes | 100.00 | 5000 Coins |
| Mystic Dragon Slots | 25 | Yes | Yes | Yes | 125.00 | 20,000 Coins |
| Outta This World Slots | 20 | Yes | Yes | Yes | 100.00 | 7500 Coins |
| Paradise Dreams Slots | 20 | Yes | Yes | Yes | 100.00 | 5000 Coins |
| Paris Beauty Slots | 20 | Yes | Yes | Yes | 100.00 | 4500 Coins |
| Penguin Power Slots | 20 | Yes | Yes | Yes | 100.00 | 5000 Coins |
| Prince Of Sherwood Slots | 20 | Yes | Yes | Yes | 100.00 | 5000 Coins |
| Rain Dance Slots | 20 | Yes | Yes | Yes | 100.00 | 5000 Coins |
| Realm Of Riches Slots | 20 | Yes | Yes | Yes | 100.00 | 10,000 Coins |
| Red Sands Slots | 20 | Yes | Yes | Yes | 100.00 | 5000 Coins |
| Ronin Slots | 20 | Yes | Yes | Yes | 100.00 | 10,000 Coins |
| Rudolph's Revenge Slots | 50 | Yes | Yes | Yes | 250.00 | 5000 Coins |
| Sunken Treasure Slots | 20 | Yes | Yes | Yes | 100.00 | 5000 Coins |
| Super Diamond Mine Slots | 20 | Yes | Yes | Yes | 100.00 | 10,000 Coins |
| Tally Ho Slots | 20 | Yes | Yes | Yes | 100.00 | 10,000 Coins |
| Three Stooges Slots | 50 | Yes | Yes | Yes | 100.00 | 4500 Coins |
| Tiger Treasures Slots | 20 | Yes | Yes | Yes | 100.00 | 4500 Coins |
| Treasure Chamber Slots | 20 | Yes | Yes | Yes | 100.00 | 10,000 Coins |
| Texan Tycoon Slots | 25 | Yes | Yes | Yes | 125.00 | 15,000 Coins |
| T-Rex Slots | 20 | Yes | No | Yes | 100.00 | 10,000 Coins |
| Triple Toucan Slots | 20 | Yes | Yes | Yes | 100.00 | 9000 Coins |
| Victory Slots | 20 | Yes | Yes | Yes | 100.00 | 10,000 Coins |
| Vikings Voyage Slots | 20 | Yes | Yes | Yes | 100.00 | 5000 Coins |
| Warlock's Spell Slots | 20 | Yes | Yes | Yes | 100.00 | 10,000 Coins |
| Wooden Boy Slots | 20 | Yes | Yes | Yes | 100.00 | 40,000 Coins |
RTG Progressive Slots
| | | | | | | |
| --- | --- | --- | --- | --- | --- | --- |
| Slot Name | # Paylines | Scatter | Bonus | Wild | Max Spin $ | Max Jackpot |
| Frozen Assets Slots | 9 | Yes | Yes | Yes | 45.00 | Progressive |
| Aztec's Millions Slots | 25 | Yes | No | Yes | 5.00 | Progressive |
| Good To Be Bad Slots | 9 | Yes | Yes | Yes | 45.00 | Progressive |
| I.R.I.S. 3000 Slots | 7 | Yes | Yes | Yes | 35.00 | Progressive |
| Light Speed Slots | 9 | Yes | Yes | Yes | 45.00 | Progressive |
| Shopping Spree Slots | 9 | Yes | Yes | Yes | 45.00 | Progressive |
| The Shark Slots | 9 | Yes | Yes | No | 45.00 | Progressive |
| Mid-Life Crisis Slots | 9 | Yes | Yes | Yes | 45.00 | Progressive |