Crazy 7's Slots
The Crazy 7's slot machine is similar to the old 7 7 7 slot machines and provides a very basic approach to slots online. This game offers multiple denominations with up to three coins played per spin, and a jackpot.
How to Play the Crazy 7's Slots
The Crazy 7's slot machine is one of the more interesting online slots produced by Playtech. Players interested in playing this game can find it at casinos which offer Playtech powered games. Crazy 7 slots offers a nice mix of choices when it comes to coin denominations. The nickel coin is the smallest coin size available while five dollars is the highest amount available on the game.
| Rank | Casino | USA? | | Sign Up Bonus | Visit Site |
| --- | --- | --- | --- | --- | --- |
| #1 | | | Bovada Casino | up to $3000 | Play Now! |
| #2 | | | Slots.lv Casino | up to $5,000 | Play Now! |
| #3 | | | SlotoCash Casino | up to $7,777 | Play Now! |
| #4 | | | Lincoln Casino | up to $5,000 | Play Now! |
| #5 | | | Planet 7 Casino | up to $1,000 | Play Now! |
The maximum bet on this game is thee coins for each spin. This means that players have the chance of hitting it big for a mere $15. Of course, those who wish to spend less can send the reels spinning for only fifteen cents.
The slot machine offers two view choices while playing. The different view options do not change the odds on the game, but it does give players options. Players can choose either a close-up view or they can choose one that is zoomed out in order to see the entire machine.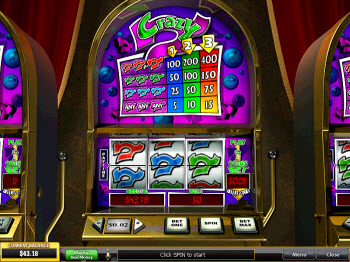 What Makes Crazy 7 Slots Interesting
At first glance, Crazy 7 slots is a simple, straightforward game. It is a three reel game, with one line. There are definitely some features that set this game apart from other classic slot machine games and have given it the moniker 'crazy.' One of the things that is different about this game than other games is the fact that there is only one symbol. Most classic style slot machine games feature three symbols. In most instances, at least a couple of those symbols are fruit based. In the case of Crazy 7, the one symbol is a 7.
In addition, most classic style slot machine games have eight winning combinations. That is not the case with this game. Players should note, the Crazy 7's slot machine offers only four winning combinations.
The reason that Crazy 7 online slot is called crazy is the fact that the 7 symbols on the game are rather different looking. It is little wonder that they are called crazy. Another feature of the game that sets it apart from other classic style games is the music that accompanies Crazy 7. It takes its theme from the highly popular Three Stooges comedies.
Symbols
As mentioned, the only symbol on this game is the number 7. The game features three colors; green, red and blue. This provides a very colorful interface that definitely catches and holds the attention of players. Many players find that once they have sit down to play a game of Crazy 7, that cannot help but to keep right on playing.
Jackpot
In order to win at this game, the player must line up a set of 7s that are all matching in color or the player must line up a set of sevens of mixed colors. This might sound simple enough, but things can get a bit complicated due to the fact that the reels contain blanks.
The top jackpot on Crazy 7 slots is 400 coins. This is hit by lining up three red sevens. The second largest jackpot is 150 coins. This jackpot is won when three green sevens are lined up. The third largest jackpot is 75 coins, which is hit with three blue sevens. The smallest jackpot is 15 coins and that is won with mixed sevens.
Our Top Pages
Online Casinos
Play Online Slots
Playtech Casinos
Popular Pages