Acropolis Slot Machine
Are you a fan of classic slot machines? Do you love to see those cherries and bars flying as the reels spin? If so, you will certainly want to give the Playtech slot machine Acropolis a try. Like so many classic slot machine games, this game features 3 reels and one payline. It is powered by Playtech, so you know that the experience will certainly be a great one. Acropolis can be found in almost any casino that features slot machine games powered by Playtech.
Wagering at the Acropolis Slot Machine
The Acropolis slot is available in a variety of coin sizes, which is good news for players. The different denominations include 0.05, $0.1, $0.25, $0.5, $1, $2 and $5.00. Players that want to keep their bets low can certainly do so on Acropolis. This is because the maximum number of coins on an Acropolis slot is just three. This means you can bet as little as three nickels if you wish. You can also bet as much as $15, depending on exactly how lucky you might be feeling and how deep your pockets might happen to be at the moment.
Symbols
The symbols on the Acropolis slots include cherries and bars, the same symbols that you would see while playing any classic styled slots game. Overall, it is a classic slot machine game that has plenty of traditional fun and appeal. Players should know there are several things they will not find on Acropolis. For example, there no wild symbols to worry about and no multiplier symbols that might be confusing. In addition, you will not find any bonus games or bonus spins. This is just a simple and straight forward classic slots machine game that is all about having fun.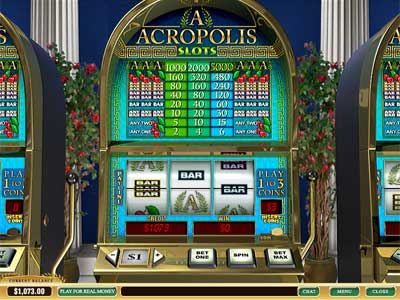 Acropolis Slot Machine Jackpot
There might not be any bonus games or spins to play on the Acropolis slots, but chances are you will not miss them. This is because the jackpot on this game is healthy enough to satisfy you even without those distracting elements. The Acropolis slot machine offers a maximum jackpot payout of 5,000 coins. To be eligible for the maximum jackpot, you must play the maximum bet of $15. There is also a second highest jackpot that amounts to $2,000. There are eight possible winning combinations on this game. Players have a good opportunity to win on this game, which certainly heightens the fun and anticipation of playing Acropolis slots online.
Conclusion
The Acropolis slot machine is a highly entertaining and fun game that presents plenty of classic, vintage style fun. The learning curve on this game is extremely easy to pick up. You do not need to spend a lot of time on learning about spins, multipliers, scatter symbols or wild symbols. You can simply get down to the business of playing and more importantly, winning. That is good news is you are just beginning to play slots. The simple and entertaining format of the game as well as the healthy jackpot will certainly encourage you to keep on playing. New players as well as those who have been playing slots for awhile will feel right at home while playing the Acropolis slot.
Our Top Pages
Online Casinos
Play Online Slots
Playtech Casinos
Popular Pages