5 Million Winning Streak Online Slot
Slots gamers are rushing to take their chances on this highly unique and insanely large payout game from PlayTech. The "5 Million Winning Streak" slots game is a straightforward five reels, five payline slots game, with thirty four potential winning combinations on the screen.
The symbols are a bit bizarre and include everything from a Virgin Mary Grilled Cheese symbol to famous winning "streaker" images from the sports world. The photographic images show the less revealing moments from the streaking incidents, but nonetheless that is how the game is played!
The maximum jackpot of one million coins – that is correct – one million is delivered by a reveal of those Virgin Mary Grilled Cheese symbols. The coins for the game are available in a range from five cents to five dollars and are capped at a maximum of five coins per spin.
| Rank | Casino | USA? | | Sign Up Bonus | Visit Site |
| --- | --- | --- | --- | --- | --- |
| #1 | | | Bovada Casino | up to $3000 | Play Now! |
| #2 | | | Slots.lv Casino | up to $5,000 | Play Now! |
| #3 | | | SlotoCash Casino | up to $7,777 | Play Now! |
| #4 | | | Lincoln Casino | up to $5,000 | Play Now! |
| #5 | | | Planet 7 Casino | up to $1,000 | Play Now! |
The jackpot comes only to those bold enough to place the maximum bet on the spin and who are lucky enough to reveal five Virgin Mary Grilled Cheese symbols across the fifth payline. The other awards for a reveal of five of the same symbols are also quite rewarding, with a second prize jackpot of fifteen thousand coins.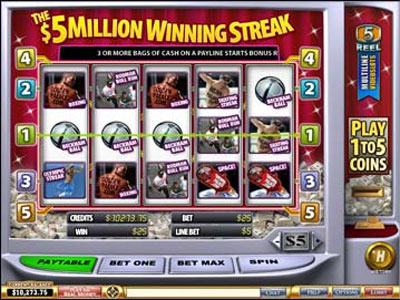 Bonus Bags of Cash
A player who gets three bags of cash symbols along an active payline is sent into the bonus round. This is one of those great bonus rounds where the player just picks from among several fat bags of cash and after picking three is back to regular play.
5 Million Winning Streak Payouts
This game offers immense payouts. The top winner is the Virgin Mary Grilled Cheese which grants the jackpot of five million dollars. The second placing of these symbols brings fifteen thousand coins, the third delivers a nice ten thousand coin reward the fourth brings twenty five hundred coins, the fifth two hundred and fifty and a reveal of two symbols gives the player twenty five coins. The Superbowl Streak symbol brings from five thousand to fifteen coins, the skating streak brings from three thousand to ten coins. The U.S. Open streak brings a winning player from two thousand to five coins, the boxing symbols bring from one thousand to five coins, the Olympic streak delivers from five hundred to fifteen, and the Rodman streak gives up from two hundred to five coins. The final two awards come from the space symbols and the Beckham ball symbols which give between one hundred to five coins respectively.
Conclusion
An enormous jackpot awaits players of "5 Million Winning Streaks" and the secondary awards are pretty incredible as well. There are many ways to win bigger coin rewards than in traditional slots games. The fun and witty theme, along with great sounds and clear graphics give an added sense of fun and excitement to this game. The Bonus round, where a winner is guaranteed some bonus coins is also a feature that will bring players back again and again to try their luck and see if they can get into their own winner's streak!
Our Top Pages
Online Casinos
Play Online Slots
Playtech Casinos
Popular Pages