Golden Tour Slots
Golfing enthusiasts will be drawn to the images and design of the Golden Tour slots game from PlayTech. Relying on themes traditional to the golfing world this excellent game offers a host of great features including multiple scatter symbols, two bonus games and a hefty jackpot.
With a golf course in the background players can really "putter" around among the five reels and five paylines of this game. Coin values range from one cent to five dollars and a maximum bet of five coins applies. The thirty two winning combinations also offer some terrific "shots" at big wins.
Top Playtech Online Casinos for Slots
| Online Casino | USA | Match | Bonus | Download |
| --- | --- | --- | --- | --- |
The symbols that create the winning combinations are golf shoes, a pilsner glass full of beer, a red flag, a full golf bag, a handy golf cart, an orange ball, a white ball and a matching pair of golden golf balls. The scatter symbols are the animals that might make an appearance at a traditional course and include the dreaded woodchuck, a male duck and a catfish.
Scatter Symbols and the Bonus Round
Unlike many traditional slots games with a single scatter symbol the "Golden Tour" slots game gives players three symbols that apply as a scatter symbol. Any three of a kind on the game screen enters the player into the bonus round. This is a second screen that asks a player to select a driver, an iron and a putter from a collection of many clubs. Depending upon the player's choices the range of coins prizes vary. If a player hit four scatter symbols to enter the bonus game their winnings are instantly tripled, and if they got five scatter symbols to enter the bonus feature their winnings in that screen are multiplied by ten!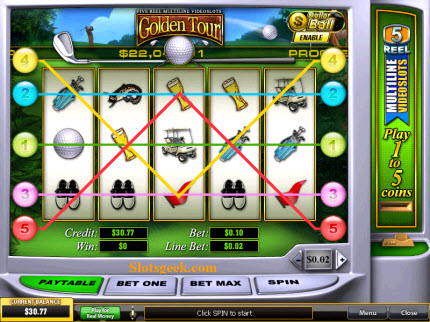 Golden Tour's Wild Symbols
There are three flexible symbols on the gameboard that work together like a wild symbol situation. The matching pair of golden golf balls can substitute for either the white or orange golf ball symbol. This gives players of the "Golden Tour" slots game even more opportunities for some incredibly nice winnings.
Golden Tour's Payouts
In addition to the excellent "extras" in this game, the payout table is also incredibly ample. Every symbol rewards a player with coins for a reveal of five to two symbols along a payline. The jackpot is dropped by a full, five symbol reveal of the golden golf balls. This gives the player a two thousand coin payout at their wager amount. Four of these symbols yield five hundred coins; three brings in one hundred coins and two gives twenty five coins to the winner.
The white golf ball brings one thousand coins on the full reveal, two hundred for a showing of four symbols, fifty for a three symbol reveal and five for two appearances. The orange golf ball brings in five hundred coins on a full reveal, one hundred for four symbols on the payline, twenty five for three symbols appearing and five coins for a reveal of two symbols on the payline.
The golf cart shows up with two hundred and fifty coins for a spin that reveals five symbols along the payline, one hundred coins drop for four symbols, twenty five coins go to a three symbol reveal and three coins to a reveal of two symbols. The golf bag "drives" in two hundred coins for a full reveal, eighty coins for four symbols, twenty coins on three symbols and pays two coins for two symbols.
The final three symbols offer one hundred and fifty coins or less on their appearances, with a minimum of two coins for a two symbol reveal.
Our Top Pages
Online Casinos
Play Online Slots
Playtech Casinos
Popular Pages