Fast Win Slots
With eight potential winning combinations on a three reel, single payline game, "Fast Win" slots from PlayTech is an easy and fun way to enjoy slots gaming. The bold and straightforward graphics make it simple to see if a winning combination has been spun. Spaceships blast the boldest players to the biggest wins, while the planet Saturn symbol works to create a winning combination when it appears with one or two of any symbol. Traditional bars in various colors fill out the rest of the payout table on this great game. The Autoplay feature allows players to sit back and let the computer do the spinning!
Top Playtech Online Casinos for Slots
| Online Casino | USA | Match | Bonus | Download |
| --- | --- | --- | --- | --- |
Beautiful Blue Saturn Symbol
While "Fast Win" slots does not offer a wild symbol, the flexible blue Saturn symbol or icon allows winning combinations to be created from a single appearance. For example, if a spin yields a Saturn symbol on a payline the player can receive from two to five coins based on their standing wager. If two matching symbols or icons appear with the blue Saturn symbol their payout is boosted from five to fifteen coins.
Autoplay
A popular feature of the online gaming industry is the "Autoplay" feature, allowing a player to sit back and watch the coins roll in as the bank builds towards the biggest jackpot. With "Fast Win" the maximum bet of $15 – from three reels of the maximum $5 coins – can yield an amazing five thousand coin payout! A clever player can set the game to Autoplay and just wait for it to happen!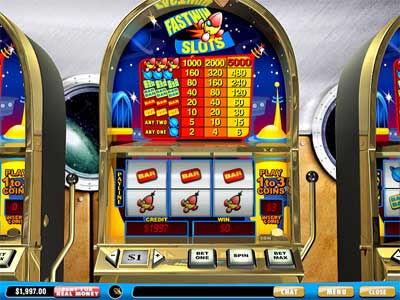 Who Needs Free Spins?
The ease of play with "Fast Win" and the almost guaranteed payouts makes this a game that really has no need for free spins and bonus rounds. The fun and boldly colored graphics, the flexibility of wagers – from five cents to five dollars, and the Saturn symbol bringing rewards every time it appears, makes this game a sure winner for even modest players.
Fast Win's Payout
During play a reveal of three whimsically designed spaceships gives the jackpot of one to five thousand coins depending upon the wager. Three blue Saturn symbols brings from one hundred and sixty to four hundred and eighty coins. The various bars in space alien green and blue as well as traditional gold and red can yield a player anywhere from two hundred and forty down to ten coins all dependent upon the initial wager. Again the blue Saturn icon creates winning combinations every time it appears and will offer rewards of fifteen down to two coins. Bolder players can really win it big if they put the maximum coinage per reel each time they spin. A five dollar coin on each reel at the jackpot is a winning spin of five thousand coins at that total dollar amount - 25,000!
Top Playtech Online Casinos for Slots
| Online Casino | USA | Match | Bonus | Download |
| --- | --- | --- | --- | --- |
Conclusion
With ridiculously easy to use gaming features, excellent payouts, amusing graphics and an autoplay feature, slots gamers can count on this PlayTech game to deliver fun, results and a "Fast Win".
Our Top Pages
Online Casinos
Play Online Slots
Playtech Casinos
Popular Pages