Dinosaur Slots
If you are a fan of Jurassic Park, you are certain to love Dinosaur Slots. Dinosaur Slots is produced by Playtech, the company that produces many of the most popular slot machine games. All casinos that feature Playtech slot machines tend to feature Dinosaur Slots. One of the reasons that Playtech slots are so popular is the fact that the games offer not one view, but two. The first view gives players an up close view while the second view is zoomed out so that players can see more of the game. Changing views does not change the way in which the game is played or the odds, but it is nice for players to be able to choose the view they prefer and are most comfortable with.
Like many classic slot machines, the Dinosaur slot machine is ideal for a variety of players because it offers so many different coin options. Players who are just learning to play and those who do not have a lot of money to spend betting can take advantage of the fact that you can get started with this game for as little as a nickel. Players who are more interested in placing larger stakes right away can place the maximum bet of $5.
Top Playtech Online Casinos for Slots
| Online Casino | USA | Match | Bonus | Download |
| --- | --- | --- | --- | --- |
Symbols and Theme on Dinosaur Slots
As one might guess from the name of this game, it offers a Jurassic based theme. Dinosaur Slots offers a variety of six symbols. Five of the six symbols are various types of dinosaurs. The final symbol is a tree. When playing this game it is important to pay attention to the different dinosaurs, because certain dinosaurs offer larger payouts.
These symbols create a total of eight winning combinations. Like almost all classic style slot machine games, Dinosaur Slots is a three reel, single pay line game format. Players can take advantage of a maximum three coin bet for each spin.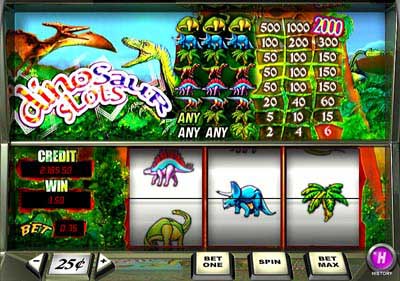 Jackpot Available on Playtech's Dinosaur Slots
The highest payout on this game is created by the yellow and green dinosaurs. That payout consists of 2,000 coins. The second highest jackpot on the game can be attained by the blue dinosaurs and is comprised of 300 coins. There are also additional payouts on the game. The third, fourth and fifth highest jackpots on Dinosaur Slots each offer 150 coins. These jackpots can be hit when three small green and yellow dinosaurs, three trees or three red and blue dinosaurs are lined up on the reels. It is also important to note that a player can win by getting just one or two trees on the pay line as well.
Top Playtech Online Casinos for Slots
| Online Casino | USA | Match | Bonus | Download |
| --- | --- | --- | --- | --- |
Conclusion
Dinosaur Slots is a simple style of slot game that offers some variety to make it interesting. There are no wild symbols or scatter symbols on Dinosaur Slots, but the presence of the colorful dinosaurs on the reels make up for that. The variety of different jackpots also add to the excitement of playing this game. The fact that players can go for the top jackpot by playing such a small bet also certainly adds to the popularity of this game.
Our Top Pages
Online Casinos
Play Online Slots
Playtech Casinos
Popular Pages