Cinerama Slots
The Cinerama slot machine is based straight from the lights of hollywood and puts the player in the role of the directory, the actors and cameraman in this 5 reel featured bonus slot.
How to Play Cinerama Slots
It is "Lights! Cameras! Winnings!" for players of Cinerama slots by PlayTech. This progressive jackpot slot machine delivers epic wins to even the most conservative players.
With five reels, five paylines and eight winning combinations the game is all ready a fun and easy to play version of the slots genre, but add the wild symbol and two bonus features along with the generous payout table and you've got an award winning opportunity for big returns.
Top Playtech Online Casinos for Slots
| Online Casino | USA | Match | Bonus | Download |
| --- | --- | --- | --- | --- |
The symbols used in the Cinerama slot machine is themed based on the movie making and Hollywood themes – the jackpot is generated by the movie camera symbol, while other rewards come from a script, clapboard, film reel, megaphone, piece of old celluloid film, star of fame, box light, microphone, headphones and grumpy director image.
A player with the maximum wager who reveals the jackpot symbols across the payline takes the progressive pot, but the player who hits the same five symbols without the maximum wager still brings in a massive payout of ten thousand coins! With such terms you'll like it, you'll really, really like it!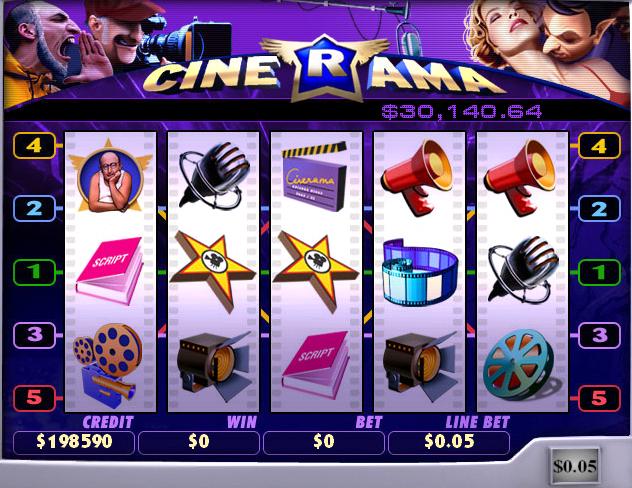 Wild Symbol
For Cinerama slots the wild symbol is also the jackpot symbol, the old-fashioned movie camera, and it will substitute for any symbol in order to create or complete a winning combination.
Cinerama Slot Machine Features Two Bonus Rounds
Reveal the headphones symbol anywhere along the first reel and the player is automatically transported into the first bonus game in the Cinerama slot machine. In this fun little extra the player is asked to choose from one of four films, guessing which one will do the best at the box office. If the player guesses correctly they leave the screen with the prize!
The second bonus feature in the Cinerama slot machine is triggered by a reveal of the director symbol three times along an active payline. Here the player gets to pretend to be a director and choose both a leading actor and actress from among a choice of ten candidates to make a successful movie. This is where it gets tricky, because a good choice brings added dollars to the winnings pool, but a poor choice can actually prove dangerous to the player's existing winnings.
Payouts
Apart from the progressive jackpot, which is an unknown amount, the other prizes for the "Cinerama" slots game are also extremely generous. The game caps the coin size at five cents each and allows only five coins to be wagered on each spin, but the payouts can still return some big "hits". The movie camera brings the jackpot, or it delivers from ten thousand down to twenty five coins.
The film script delivers a very satisfying one thousand coins on a reveal of five symbols along a payline; four symbols brings three hundred coins, three symbols offers up sixty coins and two symbols gives ten coins to the player. The clapboard symbol brings in from eight hundred to ten coins, the film reel gives a player from six hundred to five coins, and the megaphone brings from five hundred to four coins while the celluloid clipping of film drops from four hundred to four coins into the player's winnings. The walk of fame star give a reward on a reveal of five, four or three symbols only and brings in from three hundred to twenty coins, the lighting fixture and the microphone are the same and bring from two hundred to ten coins respectively
Our Top Pages
Online Casinos
Play Online Slots
Playtech Casinos
Popular Pages