Bermuda Triangle Slots
Players of all levels will want to pay close attention to their gaming screen when they decide to take their chances and play Bermuda Triangle slots from PlayTech. Offering eleven winning combinations across three reels and five paylines this unique game is tons of fun for all levels of slots players.
The game is populated by unusual symbols that a daring gamer might find in the Bermuda Triangle – from mystical ships, single passenger airplanes, hostile sharks, frolicking dolphins and menacing octopus create an amazing variety of combinations to bring up winnings.
Top Playtech Online Casinos for Slots
| Online Casino | USA | Match | Bonus | Download |
| --- | --- | --- | --- | --- |
The coin values for the "Bermuda Triangle" slots game vary from five cents to five dollars, and with a maximum bid of five coins, the jackpot of one thousand coins offers up an excellent reward for a player's daring.
The jackpot symbol for this game is a mystical sailing ship that looks as if it were from another era. The screen on this game is divided up into three horizontal lines and two long diagonals across the entire screen. These lines are clearly marked one through five and this is how the player determines their winning combinations. For example if all nine places on the reel are filled with the mystical ship the winner has hit the jackpot.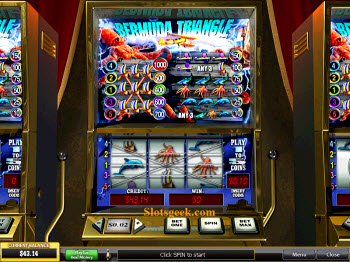 "Any 3"
The Bermuda Triangle slots game offers players opportunities to win with two different "any three" combinations. A higher value is given to spins that reveal the bright yellow and purple airplanes and brilliantly striped sailing ships in any combination of three, while there is also a nice amount of coins awarded to a player who gets any combination of three sea creatures.
Autoplay
This game offers the autoplay mode or feature, where players can opt out of active play and instead enter their preferred settings or wager amounts and then let the game enter into an autoplay mode. This mode can be ended or disabled instantly should a player decide to re-enter play or increase their bets for greater rewards.
Bermuda Triangle Payouts
The payouts for the "Bermuda Triangle" slots look a bit complicated on the payout table, but are in fact very straightforward and easy to understand. The mystical ships deliver the largest awards, with combinations yielding the jackpot of one thousand coins and all the way down to four hundred coins. The other combinations are three airplanes delivering one hundred and fifty coins, three vessels in any combination bringing one hundred coins, three sharks yielding a player seventy five coins, three orange octopi bringing in fifty coins, three happy dolphins delivering twenty five coins and finally any combination of the above three sea creatures giving the player ten coins.
Conclusion
A cool complexity of paylines and interesting graphics makes "Bermuda Triangle" slots a very interesting experience for both advanced and beginning slots players. Great colors, cool symbols and an unusual combination pattern will make players want to return to the "Bermuda Triangle" again and again.
Our Top Pages
Online Casinos
Play Online Slots
Playtech Casinos
Popular Pages