Safe Cracker Slots
Get ready to say goodbye to piggy banks stuffed full of pennies as you play "Safe Cracker" slots from Cryptologic.  This fantastic game offers players the chance to spin the reels in hopes of winning a jackpot that can be anywhere from five thousand up to a whopping twenty thousand coins.  With denominations ranging from twenty-five cents up to five dollars per coin, players have a chance to win some large loot with this exciting offering.
Best Online Casinos to Play Cryptolgic Slots
| Online Casino | USA | Match | Bonus | Download |
| --- | --- | --- | --- | --- |
No USA players - Click here for a list of casinos for US players.
Safe Cracker Slot Machine Features and Design
"Safe Cracker" slots is designed to look like a standard classic slot machine, with the usual slot buttons and with a pay table on the top of the table and the reels at the bottom.  Symbols used on the reels include pots of gold, stacks of bills, piggy banks, and triple, double, and single reels. The jackpot of this game is exciting, especially as it rises to twenty thousand coins for players who choose to bet the three coin maximum.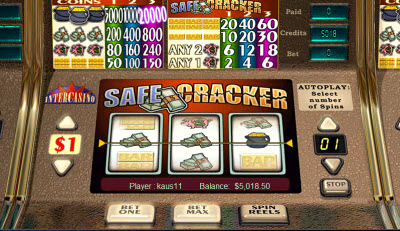 Using the AutoPlay Feature on Safe Cracker Slots
Players of all skill levels will enjoy the autoplay feature included in "Safe Cracker" slots.  With this feature, the reels can be programmed to perform a number of automated spins at the denomination and coin number set by the player.  This leaves players free to sit back, watch the reels spin, and watch their winnings add up.  The feature can be stopped at any time, even if the set number of spins has not been completed
Winning Paylines on Safe Cracker Slot Machine
There is only a single payline to be found in "Safe Cracker" slots.  The line runs horizontally through the three reels of the game and is clearly marked by a yellow line.  Symbols must land directly on the payline in order to be counted as part of a winning combination.
Winning Payouts on Safe Cracker Slots
There are many payouts to be won in "Safe Cracker" slots, and each is multiplied by the number of coins in play.  Three pots of gold on the payline trigger the jackpot, which is five thousand coins for a single coin bet, ten thousand for a two coin bet, and twenty thousand for the maximum bet of three coins.  Three stacks of bills pay two hundred coins on a single bet, while four hundred are paid on a two coin bet and eight hundred are paid on a three coin bet.  Three piggy banks pay eighty coins on a one coin bet, one hundred sixty on a two coin bet, and two hundred forty on the maximum bet. 
Fifty coins await a player getting three triple bars for a one coin bet, while one hundred are awarded for a two coin bet, and one hundred fifty are paid on the max bet.  Players who get three double bars on the payline are awarded twenty coins for a single coin bet, forty for a two coin bet, and sixty for the three coin bet.  Ten coins are awarded to players who get three single bars on the payline while betting one coin, while two coin bets pay twenty and three coin bets pay thirty.  A six coin dividend is paid for two pigs on the payline with one coin, twelve coins for two, and eighteen for three. 
A single piggy bank on the payline offers two coins on a one coin bid, four for a two coin bid, and six for a three coin bid.  With so many terrific payouts, players will undoubtedly see that this game offers the potential for some truly treasured payouts.
Our Top Pages
Online Casinos
Play Online Slots
Popular Pages